What is a Cryptocurrency Wallet?
A cryptocurrency wallet is a digital tool that allows individuals to store, manage, and interact with their cryptocurrencies. Think of it as a virtual equivalent of a physical wallet, but for digital assets like Bitcoin, Ethereum, and more.
It consists of two fundamental components: a public address (similar to an account number) where others can send you cryptocurrencies, and a private key (like a password) that gives you access and control over your holdings.
Cryptocurrency wallets come in various forms, including software (online, mobile, or desktop), hardware devices (physical gadgets for added security), and paper wallets (physical records of your keys). These wallets enable users to send, receive, and monitor their digital assets securely in the world of blockchain technology.
Crypto Wallet Development: Expert Solutions for Your Needs
In the dynamic realm of cryptocurrency, having a secure and efficient wallet is paramount. Our Cryptocurrency Wallet Development services are your gateway to seamless digital asset management. We specialize in crafting cutting-edge wallets that prioritize security, user-friendliness, and customization.
Our expert team ensures that your wallet not only safeguards your investments but also provides an intuitive user experience. Whether it's a software, hardware, or mobile wallet, we've got you covered. With our Cryptocurrency Wallet Development solutions, you can trust that your digital assets are in capable hands, giving you peace of mind in the ever-evolving world of cryptocurrencies. Secure, user-centric, and tailored to your needs – that's the essence of our Cryptocurrency Wallet Development expertise.
Types of Our Cryptocurrency Wallet Development Services
Choosing the Right Cryptocurrency Wallet: Development Options
DeFi Wallet Development
We provide top-notch DeFi wallet development services to cater to the growing demand for decentralized finance solutions. With a focus on safety and innovation, our DeFi wallets allow users to access multiple DeFi platforms on the go easily.
Desktop Wallet Development
Our desktop wallet development services offer users an easy way to manage their cryptos on desktops. We craft intuitive wallets, providing easy navigation, seamless transactions, and advanced security features that can protect digital assets.
Hardware Wallet Development
Our hardware wallet development team focuses on creating devices that are easy to handle and use while offering unparalleled security to store private keys offline. These wallets redefine crypto payments by being compatible with multiple devices.
Centralized Wallet Development
Our centralized wallet development services offer unparalleled solutions that allow you to create crypto wallets with centralized functionality for better user-friendliness and security alongside features that make it seamless to work with.
Coin-specific Wallet Development
If you want to support a specific crypto token, our coin-specific wallet development services can address your requirements. Whether it's for a new altcoin or an established token, we can build customized wallets aligning with your unique needs.
Multi-currency Wallet Development
With our multi-currency wallet development services, you can easily aim for the wider crypto market. Our wallet solutions allow people to handle and transact different kinds of digital assets on multiple blockchains seamlessly and securely.
Mobile Wallet Development
Our mobile wallet development services design mobile wallets with a strong focus on user experience, ensuring that users can access their digital assets on the go. They are built with robust security features and a user-friendly interface.
Web Wallet Development
Our comprehensive web wallet development services build secure and highly responsive web-based crypto wallets that allow users to access cryptos through various browsers. Security and user-friendliness are focal points in our web-based wallets.
TRON Wallet Development
We offer exclusive TRON wallet development services to support TRX and TRC-based tokens for businesses. Our TRON wallets interact seamlessly with the TRON blockchain, enabling users to efficiently transact, receive, and manage TRON-based assets.
Why White Label Crypto Wallet Development?
White label crypto wallet development offers a smart solution for businesses looking to enter the cryptocurrency space swiftly and cost-effectively. Instead of building a wallet from scratch, companies can opt for a white label solution, which is like getting a ready-made, customizable wallet. It saves time, resources, and the hassle of dealing with complex technicalities.

With white label cryptocurrency wallet development, you can brand the wallet as your own, adapting it to your unique requirements and aesthetics. This approach is especially attractive for startups and businesses seeking a quick entry into the cryptocurrency market without compromising on quality and security.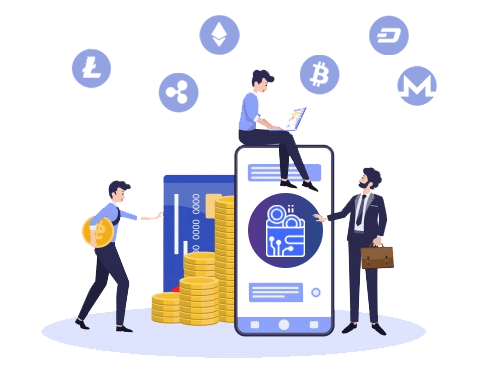 Features of Our Cryptocurrency Wallet Development Services
We provide top-tier Cryptocurrency Wallet Development Services equipped with an array of features designed to elevate your digital asset experience. Our commitment to excellence ensures that your cryptocurrency wallet is not just secure but also versatile and user-friendly.
Connectivity with NFT Marketplaces Our service enables you to seamlessly trade and manage NFTs within your wallet, opening up a world of digital collectibles.
In-Built Web3 Browser Explore decentralized applications and websites directly from your wallet interface, simplifying your interaction with the decentralized web.
Top-Tier Security Your assets are safeguarded by robust security measures implemented by our experts, providing you with peace of mind.
Staking We empower you to participate in blockchain network staking, allowing you to earn rewards effortlessly.
Lightning Network Integration Experience lightning-fast transaction speeds and lower fees through our integrated Lightning Network support.
Real-Time Analytics Stay ahead of the curve with real-time insights into your portfolio, thanks to our cutting-edge analytics tools.
Multiple Network Integration Manage assets across various blockchains within a single wallet, simplifying your digital asset management.
Customizable Transaction Fees Tailor transaction fees to your preferences, ensuring cost-effective and efficient transfers.
dApps Support Access and interact with decentralized applications seamlessly through our wallet interface.
Customer Support Our dedicated customer support team is here to assist you whenever you need it, ensuring a smooth and hassle-free experience.
Cryptocurrency Wallet Development: Pricing and Packages
Multicurrency wallet -Android app
Why Choose us for Cryptocurrency Wallet Development?
At Blockchain App Factory, we are your trusted partner for cryptocurrency wallet development, and here's why:
Innovation at the Core: We thrive on innovation and continuously explore disruptive technologies. Our in-depth research ensures that we stay ahead of the curve, unlocking new possibilities every day.
Quality is Our Priority: Our development team is well-equipped to deliver top-notch products. We prioritize quality, offering customizable and innovative solutions tailored to your specific needs.
Experience and Expertise: With a wealth of experience, our skilled developers are your guides throughout the entire development process. We ensure that the final product surpasses your expectations.
Market Insights: Our adept team possesses deep market knowledge. We can provide you with a cryptocurrency wallet that's not just current but also future-ready, enabling you to stay ahead in the rapidly evolving world of cryptocurrencies.
When you choose Blockchain App Factory, you're choosing a partner dedicated to excellence, innovation, and client satisfaction. We're here to empower your business with cutting-edge cryptocurrency wallet solutions.
We Spotlighted In
---









We are Partnering With