What Is Industry 4.0?
Industry 4.0 is an evolving industrial revolution that mainly relies on automation, machine learning, interconnectivity, and the exchange of information in real-time to achieve maximum operational efficiency with zero downtime. Industry 4.0 is readily attainable with the right fusion of Cyber-Physical Systems (CPS), the Internet of Things (IoT), and real-time data generated, paving the way for smart factories.
As your manufacturing unit gets smarter with the integration of smart devices, your factories will become highly efficient and significantly productive.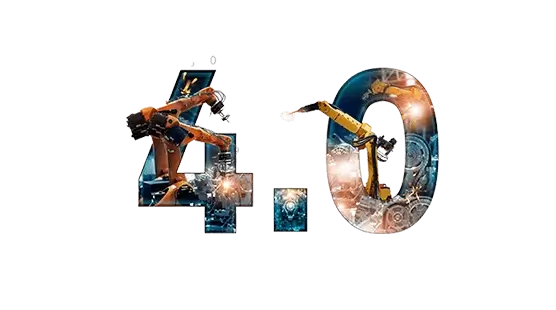 Harness The Power Of Our IoT Solutions To Enable
Real-time Diagnostics And Optimized Operations
---
The Industrial IoT (IIoT) leverages the power of smart IoT devices and the data generated by them to churn out real-time analytics. These analytics can be presented in the dashboard to offer insights into running large scale industries holistically. At Blockchain App Factory, we present the IoT devices explicitly designed for implementation in mid to large-scale enterprises that include equipment in need of requiring routine monitoring and frequent checks.
Upon installing our devices throughout your industry, you can immediately identify the minute changes in the entire operations, and the respective team will be remotely notified. Also, the data collected are stored in a cloud database, and the equipment status and other information can be viewed on a dashboard accessed on a web browser. You can analyze these data, anticipate failures or non-optimized operations, and undertake predictive maintenance on time. It saves you big time in the event of predicted failures or helps you take necessary actions to avoid future problems.Contact us to build future-proof industries and scale high in your sector. Get your IoT devices for industry today!
What Benefits Do IoT Applications For Industry Offer?
---
Increased efficiency

The major perk of deploying IoT solutions in manufacturing units is that it keeps a tab on most parts of the processes all the time, leading to maximized operational efficiency. Also, you can make data-driven decisions regarding all manufacturing functions, leading to more efficient processes. It helps you in eliminating downtime to a great extent.

Routine monitoring

The sensors installed across the machinery units help you monitor their performance on a regular basis, thereby gaining insights into the operation of each piece of equipment or the unit as a whole. It makes routine monitoring and equipment maintenance less labor-intensive and more efficient.

Predictive maintenance

Machine downtime is often a major issue when it comes to manufacturing operations. The lack of proper, on-time maintenance is regarded as the reason behind it. Wipeout such issues right from the start by scheduling predictive maintenance prior to the downtime. It significantly reduces downtime and eliminates manufacturing losses if any.

Paperless data records

The data received periodically are stockpiled in the cloud database, which can be accessed anytime straight from the web dashboard that comes as part of our IoT IoT connectivity solutions. This way, you can readily go paperless with all data stored and accessed in the cloud database. You can also view or download the data-driven reports effortlessly.

Increased productivity and profitability

With the right predictive maintenance strategies on board, the downtime of machinery is cut down, driving maximized productivity. Also, the data-driven insights into all parts of the operations result in eliminating the operational costs wherever possible and thereby boosting the profitability of your business operations considerably.
Streamline the operations of your business effortlessly by deploying our cutting-edge IoT based solutions across your industry!
Industry Use Cases Of Our IoT Solutions
---
Use Case 1: IoT Solutions For Steel Industry

The steel industries with continuous manufacturing processes can make the utmost use of our IoT devices to eliminate the production of defective products and manage the manufacturing conditions effectively. Makes it simple for you to keep track of your product quality.

Use Case 2: IoT Solutions For Oil and Gas Industry

Adopting IoT in the Oil and Gas value chain is arguably the most viable option to make the processes more efficient and effective. It can be deployed to monitor your fleet, detect leaks faster to prevent accidents, and monitor various parameters of the oil well and tankers.

Use Case 3: IoT Solutions For Telecom Industry

IoT application in the Telecom industry leads to efficient monitoring of telecom equipment for maintenance, thereby averting major outages. Also, the key performance indicators of active and passive equipment at remote locations can be supervised. Therefore, the maintenance cost is significantly reduced, and efficient power management is ensured.
We Spotlighted In
---









We are Partnering With