Introducing Multi Chain networks
Astonishingly, Fintech has been experiencing tremendous changes with its modernization of blockchain technology. Its significant features unlock the hidden opportunities of traditional finance with its decentralized environment. Its anonymous nature attracted sovereign investors towards modernisation and to experience the investment opportunities in digital assets. These digital assets in the crypto world favour the on boarding of many business ventures to the decentralized medium to serve modern finance.
Burgeoning crypto enthusiasts introduced salient features in modern finance with their innovations in the blockchain ecosystem. Such an increasing crowd towards blockchain's modern finance introduced tremendous financial services from cryptocurrencies to NFTs. The rise of DeFi served as a ladder for multiple crypto startups to reap their benefits of blockchain and to take a strong position in the turbulence of the crypto space. The business started to grow in the decentralized environment with phenomenal innovations and the introduction of multiple blockchain networks to upgrade the performance of blockchain. Many businesses have found developing a decentralized platform in multiple blockchains allows them to gain huge investors towards the platform and also offers an opportunity to experience the possibilities of multichain networks.
Multichain development service
Multichain is a hybrid environment that facilitates the creation and deployment of private blockchains individual organizations. Multichain supports the deployment of a private blockchain, especially for individual financial institutions with reliable security. This Multichain supports Windows, Linux and Mac servers and provides a simple API and command-line interface.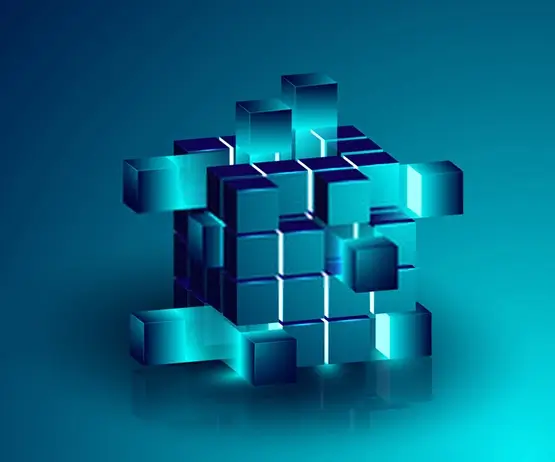 In private blockchain, users randomly generate their own private keys. Each private key comprises a mathematically related public address that represents an identity for receiving funds. Once sent to a public address, those funds can only be accessed using the corresponding private key to "sign" a new transaction. In this sense, access to a private key is equivalent to ownership of any funds which it protects. MultiChain uses the following properties to restrict the blockchain access to a list of permitted users when two blockchain node gets connected
Each node presents its identity as a public address on the permitted list.
Each node verifies that the user's address is on its own version of the permitted list.
Each node sends a challenge message to the other party.
Each node sends back a signature of the challenge message, proving their ownership of the private key corresponding to the respective public address
Benefits of Multichain development
---
Customizable Multichain
We have domain experts who can deliver innovative multichain development services to the clients. We understand their requirements and provide customized solutions related to their business niche.
Authentication
Multichain development services can limit ledger visibility to the participants. The organization that has this platform has the ability to control the transactions.
Supports Multiple industries
Multichain development technology is not only for the finance sector. It can be implemented in different industries in the market.
Supports Multiple Transactions
Multichain allows users to perform thousands of transactions at a time. This allows every associated user to verify assets, approve requests and scout data.
Complete Control Over Transactions
Multichain allows the users to take complete control over their transactions. This offers reliable security over each transaction.
Agile Deployment Methodology
Multichain allows users to create and deploy applications in multiple blockchain networks without overlapping.
Multichain's significance in business development
Education
Multichain development services are playing a major role in the education industry. It allows smoother transactions across educational institutions through cryptocurrency.
Healthcare
The multichain platform allows the development of decentralized healthcare applications that support multiple blockchains.
Social Sector
Multichain development supports NGOs and Non-profit organizations by offering transparency in each and every transaction.
Insurance
Our team of multichain developers has allowed the companies to collect insurance premium easily through a centralized private blockchain.
Finance
Multichain development services provide a platform that has removed the intermediaries. It offers a cheaper and less time consuming financial procedure to users.
Special features of Multichain
Private Blockchain
Multichain facilitates the creation of private blockchains for individual organisations. This supports especially the financial sector to offer private banking services.
No mining/transaction fees
Multichain's private blockchain features do not consume any mining or transaction charges.
Application-specific chains
Multichain facilitates the transfer of precise data. Duplications and irrelevant data can be avoided.
Multiple asset support
We integrate external wallets to your platform to connect with web 3 browser for seamless purchase and management of multi
Automated exchanges
Automated exchange in multichain prevents accidental transactions and fraudulent transactions.
Our Excellency
Blockchain App Factory's pioneering service in business development and our enthusiasm towards blockchain technology strives to offer innovative solutions with decentralized technology. Our team holds expertise in developing your business platform in multiple blockchain technologies. Our craftsmanship and experience in blockchain technology allow us to offer solutions in multichain with the following features for your business development in the crypto industry.
Reliable platform development
Your multichain platform will be developed and tested to sustain breaches and catastrophic failures.
Futuristic technology
We develop your platform to evolve with the upcoming trends and features in blockchain technology.
Security and transparency
We develop your platform with utmost security to prevent users data and transaction. Also, each transaction will be transparent in the network.
Cross-chain ecosystem
We have the ability to create your platform in an ecosystem that can be connected with multiple blockchain networks.
Dedicated Team
We have a dedicated team specialized in multichain development to offer a potential solution to compete in the raging crypto market.
We Spotlighted In
---









We are Partnering With





Free Consulting