Why is NFT Consulting important?
Non-fungible tokens (NFTs) have grown in stature in recent years due to increased adoption among the crypto-savvy community that saw their endless potential. Such prominence gives rise to more and more businesses based on these virtual tokens, which has given rise to competition in the Web3 world. Hence, NFT consulting is deemed necessary for an NFT-based startup venture to appeal to the community and take a special spot in the congested space. Blockchain App Factory helps humble Web3 ventures achieve their dreams through client-specific NFT consulting services.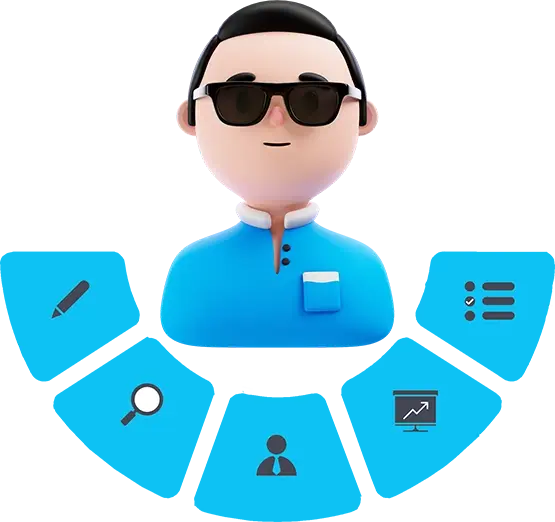 Statistics that Prove the Hype around NFTs
In 2021 alone, more than US$ 41 billion worth of cryptocurrencies was spent buying NFTs across marketplace platforms.
Between the second and third quarters of 2021, the trade volume of NFTs rose by 704%, which fuelled the NFT boom.
The top 5 countries in terms of the number of NFT adopters are all in Asia (The Philippines, Thailand, Malaysia, UAE, and Vietnam).
23% of millennials say that they collect NFT assets either as a hobby or an investment.
Across 2021, the number of NFT artwork trades was more than 11 million.
Scope of Our NFT Consulting Services

Market Research
The aim of our market research is to satisfy end-users with diverse digital knowledge levels by providing immersive experiences through user-friendly applications for NFT ventures.

Business Prediction
We provide accurate predictions for your venture based on anticipated market movements and the business's vision that gives out results for our feasibility analysis tests.

Functional Needs
Our team carefully checks all the needs of your venture platform and filters the ones based on viability to form your Web3 platform's final solution.

Non-functional Needs
Our team analyzes features that work in hindsight to ensure that the platform works as intended at standard speeds and zero errors at any time.

Platform Architecture
We draw plans to link all the different software components of your Web3 business in a diligent manner to ensure that everything works seamlessly anytime.

Technological Stacks
Our NFT project advisors help you in choosing the best third-party tech stacks needed for your Web3 venture platform based on your requirements and resources.
NFT Consulting services we offer
NFT Sale Strategy
The NFT consulting agency offers you insights and strategies for promoting and selling in NFT business to help you reach new heights, irrespective of your stature in the Web3 space.
NFT Creation Advisory
Our NFT advisory services provides you with ideas on making your NFTs become a viral trend through suitable marketing strategies that can create a connection with the wider Web3 community.
NFT Marketplace Platform Advisory
Expereinced NFT consultants for artists can help creators decide the NFT marketplace platform(s) they should mint and sell their creative works to generate maximum recognition and profits.
NFT Minting Advisory
Skilled NFT project advisors can help you make decisions about the number of NFTs you should mint for the project, whitelist processes, and price scales to make the venture successful.
Smart Contract Strategy
Our NFT consulting services can provide you with modern use cases for your NFTs that can be written into smart contracts to appeal better to the ever-growing Web3 community.
Strategic Partnerships and Sales
NFT project consultants from the firm can assist you in forming partnerships with leading NFT firms, Web3 personalities, and media agencies to enrich the project's worth in the digital world.
Viral Marketing Through Referrals
NFT marketing consultants can aid your Web3 business through viral marketing powered by classical referral campaigns that reduce the burden and costs related to normal promotions.
Token Offerings
Skilled NFT crypto consulting experts can help you add functionalities related to investment-based security token offerings that comply with relevant jurisdictions' legal regulations.
Influencer Marketing
Our best NFT consultants have created relationships with popular Web3 influencers who will be linked perfectly to your NFT venture's marketing campaign based on the business niche.
Community Management
Expert community managers we have can build and manage huge business communities for your NFT projects across multiple platforms by keeping members engaged with updates and activities.
Social Media Marketing
Seasoned social media marketers can advertise your NFT firm through informative and insightful posts to the viewers along with highly engaging captions enough to begin interactions.
Influencer Database
We have collected the contact data of Web3 influencers worldwide categorized by niche and blockchains to ensure that you can promote your NFT business with the perfect influencers.
Get Expert Consulting for Your NFT Project
---
As one of the best NFT-focused consulting firms, we can help you by offering insights and utilizing ideal strategies across the process to realize your NFT business to perfection.
Top Blockchains for Launching NFT projects
---
NFT Segments Our Consulting Services Offer

Artwork
Registering authentic artworks on blockchains as NFTs and selling them on marketplaces without copyright hassles.

In-game Items
Selling tradable in-game assets to gamers to increase competition and enable a thriving in-game economy.

Music
Albums can be tokenized and sold to fans directly without depending on centralized streaming services.

Photography
Photographs can be sold by photographers to earn recognition and monetary returns more than ever.

Sports Collectibles
Sporting memorabilia can be registered as NFTs to ensure authenticity and sold to enthusiastic fans.

Event Tickets
Tickets can be digitized to ensure that all passionate fans can participate in the events.

Patents
Patent ownerships for inventions can be transferred over the blockchain, and records can be transparent.
How can Blockchain App Factory Help Web3 Ventures to Take Off?
Our NFT consulting agency understands the pulse of the Web3 community from time to time. This makes us continuously improve our consulting and marketing services to be on par with current trends. Such adaptation has resulted in Blockchain App Factory becoming one of the best NFT consulting firms in the world. Even with improvements over time, we keep our customers over anything else and ensure that all their needs are satisfied before ending the partnership. We have been in the blockchain industry for more than 5 years, and have developed more than 200 unique projects. Currently, we have more than 50 ongoing projects which are being crafted by our 300+ team consisting of blockchain experts, consultants, and marketers. If you want to frame the overall plan for your new Web3 venture, hire NFT consultants from one of the best NFT consulting companies globally.
We Spotlighted In
---









We are Partnering With