10+ Years
Experience in Blockchain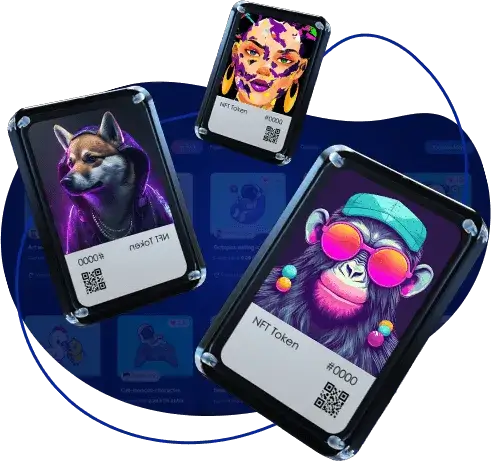 Propel Your NFT Journey With Our Custom NFT Development Services
NFTs have emerged as a game-changer, revolutionizing the way digital assets are owned, traded, and valued. As the popularity of NFTs continues to soar, businesses across various industries are recognizing the immense potential and value they offer. At Blockchain App Factory, we offer comprehensive NFT development services to help businesses harness the power of this disruptive technology.
We have established ourselves as a trusted name in the industry with a proven track record of delivering impeccable NFT development solutions to a global clientele. Whether you want to tokenize digital art, gaming assets, or any other unique item, we provide mission-driven NFT solutions that effectively cater to your requirements. Create non-fungible tokens or build an NFT marketplace. We have what it needs to make your NFT venture lucrative.
Partner with us today!
What Do Our NFT Systems Support?
We specialize in developing robust NFT systems that support and enhance the four fundamental processes involved in NFT transactions.

NFT Creation
We create and mint NFTs backed by a diverse range of unique assets.

NFT Auction
Our systems offer a seamless process of submitting bids for NFTs in auctions.

NFT Transaction
We ensure on maintaining the security and integrity of your NFT transactions.

Redeeming Of NFTs
Our systems support the redeeming of NFTs for physical or digital assets.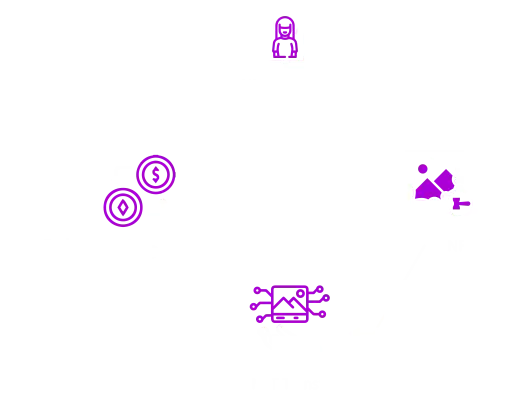 Our Comprehensive Non-Fungible Token Development Services
Your One-Stop Shop For NFT Solutions
NFT Marketplace
With our expertise and in-depth knowledge of the NFT market, we offer end-to-end NFT marketplace development services. Our experts build a platform that is highly responsive and is installed with cutting-edge features.
NFT Minting
Our robust NFT minting platforms empower artists and creators worldwide to digitize their unique creations, transforming them into valuable NFTs and empowering them to showcase their work and reach a global audience.
NFT Exchange
Our team creates a secure environment for the buying, selling, and exchanging of non-fungible tokens. Also, it supports smooth and transparent transactions, ensuring that buyers and sellers trade NFTs with confidence.
NFT Lending
Our next-gen NFT lending platforms offer a secure and transparent environment and facilitate easy liquidation. They allow users to leverage their NFT holdings for loans.
Key Components Of The NFT Ecosystem We Build
Application Layer
We develop custom front-ends and back-end logic tailored to specific use cases and ensure our NFT systems provide intuitive interfaces and advanced functionalities.
Payment Gateways
To enable effortless transactions, we integrate various payment gateways and offer multiple payment options within our ecosystem.
Authentication Layer
We effectively code self-executing smart contracts that authenticate and automate transactions between NFT sellers and buyers.
Validation Layer
To establish the validity of NFT transactions, we add a hash specific to each NFT to enhance security and provide a verifiable record of ownership.
Storage Layer
Our NFT ecosystems utilize a decentralized storage network and cloud storage solutions to securely store blockchain data and digital assets.
Intriguing Features of our Non Fungible Token Development
NFTs offer a lot of features advantageous to businesses, creators, and collectors. We will see some of the points below.

Ownership
NFTs offer proof of ownership for buyers, helping them to truly own the asset supported by the NFT on the blockchain.

Transferability
NFT assets can be transferred easily as transactions involve blockchains which make the process quicker and verifiable.

Royalties for Reselling
Creators can earn royalties easily whenever an NFT is resold by including relevant conditions in smart contracts.

Inclusive Growth
NFT assets can be transferred easily as transactions involve blockchains which make the process quicker and verifiable.

Authenticity
NFTs help people ensure the authenticity of assets over the blockchain to verify whether a product is original easily.
Steps behind our NFT Development Process
Initial Consultation
Our experts consult with you to understand your business requirements and offer insights to enhance your new venture to reach target markets.
Blueprint Creation
Your NFT project's blueprint is created by our experts after consulting with you. This includes the project development campaign and its long-term goals.
Development
Then, Our NFT Developers start developing NFTs for your project using advanced technology to ensure all your business needs are met while ensuring Web3 ethics are met.
Quality Assurance
Our QA testers test the NFTs and smart contracts using multiple methods to ensure everything is working perfectly by resolving all defects found.
Launch and Maintain
Finally, your NFT project is launched for public trading, and we offer continuous maintenance services to ensure your venture stays with the trends.
Our NFT Development Company Offers
Our company offers many types of NFTs for businesses that, include the following: