10+ Years
Experience in Blockchain
Build a Thriving NFT Community With Our Market-Leading NFT Community Management Services
In the fast-paced world of NFTs, having a strong and engaged community is critical for success. We understand that building and nurturing a thriving NFT community takes time, effort, and social media expertise – something not everyone has the luxury of. Fear not! The time is now, and we're here to get you moving toward success!

At Blockchain App Factory, we understand the significance of community in the NFT space. Our best-in-market NFT community management services are tailored to fit your project's unique needs, no matter where you are on your NFT journey. Our leading NFT community managers understand that adding value to your community is paramount. We'll ensure your audience stays consistently engaged in your brand, setting the stage for a successful NFT project.
Our Expertise in NFT Community Management Channels
We take pride in our exceptional expertise in managing NFT communities across multiple channels. Our dedicated team of community managers ensures seamless engagement, active participation, and growth for your channels. With a proactive and engaging approach, we empower your community members to become enthusiastic advocates, amplifying your project's impact in the NFT market.
Discord We set up customized channels for discussions, announcements, and support to create a dynamic and inclusive space for community members.
Telegram We curate informative content and distribute project updates through Telegram announcements, ensuring members stay informed and engaged.
Twitter Through compelling tweets, strategic hashtag usage, and timely responses to mentions, we boost community engagement and brand awareness.
Reddit We leverage Reddit's upvote system, adhere to subreddit rules, and curate valuable content for NFT-related subreddits to drive targeted traffic to your project.
Our Quality NFT Community Management Service Deliverance
Our comprehensive approach to community management ensures that your project's community thrives, remains well-informed, and actively contributes to the project's success. With our dedicated team and robust tools, we create a vibrant and supportive community space for all participants.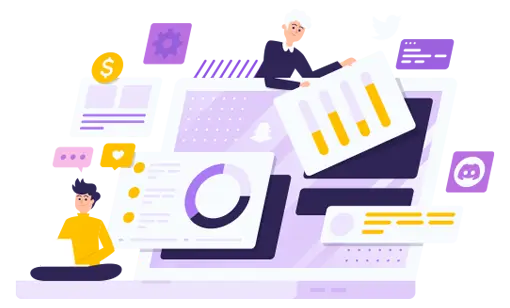 24/7 Community Support Services
Robust Team Coverage
Optimized Community Channel Setup
Proactive Moderation & Community Engagement
Informative Pinned Messages
Tailored FAQ
Combatting Spam & Scammers
Swift Response Times
Driving Whitelist Participation
Seamless Bot Integration
What Our NFT Community Management Services Comprehends?
Our agency takes pride in delivering best-in-market NFT community management services that encompass strategic planning, interactive engagement, and proactive communication to ensure your NFT community thrives. Through innovative community-building initiatives, we empower your NFT community to transcend boundaries.