Essence of security tokens
Smart contract capabilities offered by ethereum serve a prominent role in the decentralized financial world. Smart contracts are a computer program that controls the protocol that handles the exchange between buyers and sellers.
Smart contracts allow users to make transactions, exchanges, and agreements anonymously without any KYC and centralized legal systems. The significance of smart contracts in DeFi arises from multiple solutions for financial services.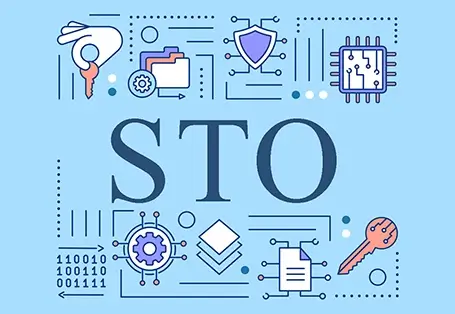 What is a Security Token?
Security tokens are the tokens that derive value from the assets we trade. The token follows the federal securities and regulations also qualifies the howay test. These evaluated tokens offer trust and security among investors to make huge investments. Most of the projects use ethereum tokens for their efficiency. These security tokens allow purchasing stable coins where the investors need not suffer Ethereum's volatility. Security tokens are like holding the shares of a company with the benefits of blockchain technology.
STO Smart contract development services
Token creation
By creating ERC-20 tokens, one gains the ability to develop multiple applications along with transferring tokens.
Token Issuance
Token issuance supports smart contracts during private sales; The token will be transferred automatically once the payment is credited.
Escrow contract
This helps to store Ether and ERC-20 tokens by writing contracts.This contract also allows the issuance of ether slash tokens.
Custom Smart Contract
Your smart contract can be customized based on the requirements of your transactions, fund exchanges, agreement with multiple investors.
Smart contract Audit services
Smart contracts are not fault-tolerant. These contracts are prone to hacks and other malfunctions. Such data breaches may cost billions of dollars in the crypto world. Our smart contract audit services verify your smart contract with our database to detect issues and flaws. We further validate your contract by ensuring its performance and security vulnerabilities. Our gas analysis optimizes your smart contract by preventing unnecessary fees.
Taint Analysis
Taint analysis is the process of auditing external code's runtime errors.
Control Flow Analysis
We evaluate the possible paths and suggest the optimal solution for code implementation.
Data Validation
Here, We attempt multiple tests for data to ensure that smart contracts are safe from a breach.
Model Checking
Our Security model checks the contracts to ensure it performs with intended functionality.
Fall Back Mechanisms
Our smart contracts are work-shopped with associated fall back mechanisms to avoid worst-case scenarios.
Audit report
Our team constructs a detailed report that enlists the security fixes undertaken by the project team.
| Requirement Analysis | We Serve |
| --- | --- |
| Understanding the requirements for New and Existing Application | NDA |
| Identify business logic to be migrated to Smart Contracts. | Use Cases |
| Roadmap of the product | Proposal for Technical Design |
| | |
| Technical Design | We Serve |
| Smart Contracts Definition Document | Flow diagram |
| Design technical Architecture | System blueprint |
| Document technical GDPR compliance requirement | Epics and User stories |
| Create sprints and delivery milestones | Document scalability and security requirements |
| | |
| Development | We Serve |
| Alpha | Source code |
| Beta | Smart Contracts |
| Release Candidate | Builds |
| Production | Test Blockchain Deployment |
| | |
| Deployment | We Serve |
| Provisioning | Main Network Release |
| Deploy on Main Network | Rollout execution |
| | |
| Upgrades | We Serve |
| Requirements gathering | Smart Contracts upgrades |
| Backlog prioritization | New contract Deployment |
Our Influence in Blockchain development
Blockchain App Factory offers a wide range of DeFi services. Our experience in the DeFi journey articulates the flaws and insecurities in smart contracts, a compelling feature of DeFi.
Our team offers a prominent solution to mitigate the risk in smart contracts with STO. We ensure the product serves its designed functionalities by multiple audit services before we deliver.
Craft your product with our experts to assist with innovative ideas and design for the flawless execution of your STO smart contract development. Outsource your business with robust smart contract development services to build trust among the investors to contribute to the DeFi ecosystem.
We Spotlighted In
---









We are Partnering With





create your token
×