As the crypto market transcends into the mainstream world, we can see the impact blockchains have caused in our lives. Most people get into this lucrative space to multiply their holdings and explore new asset classes. But how do their thoughts drive them to take such action? Of course, through promotions, especially crypto Twitter marketing, that powers and connects businesses, creators, collectors, investors, and onlookers. Our guide will see extensively about promoting crypto projects on Twitter (Now X) and various channels you can utilize inside the application. We will also drive home how our crypto Twitter marketing agency can aid your efforts immensely.
The Current State of Twitter
With over 450 million monthly active users (MAU) in 2023, Twitter (Now X) has been a go-to social media platform for many reasons. The micro-blogging platform lets users share textual content with a 280-character limit that can be supplemented by images, GIFs, and videos.
Twitter has long been viewed as a platform for intellectuals and celebrities. But the image has long been changed owing to large user adoption over the years. Now, with its new management, Twitter is set to work in new ways and attract even more people. Now, it has even become a haven for cryptocurrency propagators and enthusiasts.
Twitter for Marketing: Does It Help?
Twitter has become a medium for marketers worldwide over the years to promote their brands. While the platform isn't as user-intrusive as some of the other popular social networks, it still offers umpteen ways to promote businesses and brands. The application is a major instrument in brand building and awareness due to its high stature in its early days.
A statistic says 40% of users purchase a product after coming across it on Twitter, supplemented by the fact that people spend 26% more time viewing ads on Twitter compared to other platforms. Also, over 67% of marketers use the platform for B2B marketing, a fact that fascinates us, given Twitter's free nature.
Delving Deeper into Crypto Twitter Marketing
Remember when we said Twitter had become a hub for crypto enthusiasts? The buzz has become so high that crypto Twitter marketing has become an actual need for businesses. As the name implies, the process allows businesses to reach prospective and existing customers through Twitter's various provisions, like tweets, multimedia, spaces, and ad campaigns.
It will be underwhelming to say Twitter has the most impact on the crypto space's trends, as most updates, events, and revelations flow through the platform than anything else. For instance, who could forget what happened to Dogecoin ($DOGE) when Elon Musk tweeted about it multiple times (before acquiring Twitter)? The below quote is a testament to how Twitter influences people's time and how marketers can tap into the platform.
Quote:
"When you've got 5 minutes to fill, Twitter is a great way to fill 35 minutes" ― Matt Cutts, Former Head, Webspam team at Google.
Benefits of Advertising Crypto Ventures Using Twitter
NFT promotions come with a plethora of benefits, and some include the following:
The application's Interactive Nature allows businesses to connect with people in meaningful ways, and two-way communication can be mutually beneficial in many ways.
A Massive Crypto Community Presence allows Twitter to be at the forefront of promotions for projects of all scales.
The platform's Hashtags and Trends enable ventures to reach common users beyond their followers using real-time updates and visual mediums.
Twitter also offers Advanced Targeted Advertising Options, allowing businesses to make more conversions from audiences relevant to the crypto space.
Best Crypto Marketing Strategies for Twitter
Currently, promoting crypto projects on Twitter aiming for conversion has become challenging to achieve as thousands of businesses aim for the same. But, they can still overcome struggles and pass with flying colors if they properly utilize crypto marketing strategies for Twitter. Our experts have come up with explanations for the best tactics one can tap into using Twitter as a communication tool. One should note that crypto marketing on Twitter is applicable for projects utilizing cryptocurrencies, non-fungible tokens (NFTs), and relevant applications. These ventures tend to harness the majority of Twitter users who come from regions where cryptos have a positive reception.
Define a Target Market
For any business planning to use Twitter for crypto marketing, it is necessary to define a target market. The audience to be targeted varies for each project, even if it falls under the same business model. Here, we should cater to fulfill pain points through unique missions rather than aiming for an audience interested in a particular business model.
For example, suppose you have a crypto token on Ethereum that offers access to exclusive offers for purchasing sports-based digital collectibles. In that case, you have to channel your advertising efforts toward users interested in sports collectibles. You can do so by researching current market trends and needs.
Optimize Your Twitter Bio
The Twitter bio is the space where you will give a headline about your crypto business. It should be short and concise, letting a viewer know what you know even before scrolling down. You can also utilize a popular hashtag relevant to your business to attract more attention.
For instance, the play-to-earn (P2E) game Axie Infinity's Twitter handle has a bio that goes "🏹 Battle 👀 Collect ⟠ Build // ✨ Freedom for gamers //." This description perfectly shows the game's nature and how it appeals to gamers. You can also give a link to your website or Discord server or a listing in an NFT marketplace, depending on your business.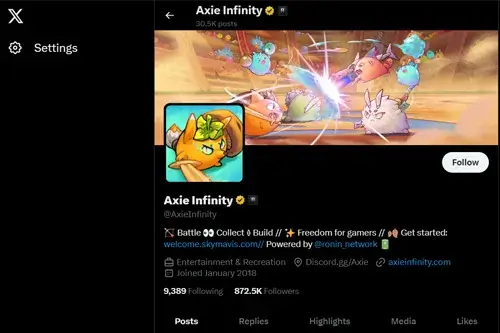 Host Crypto Airdrops/Giveaways
As a crypto business, hosting airdrops and giveaways on Twitter is a great way to convert followers into customers. Typical giveaways include crypto coins and NFT assets, to get which one has to do a set of tasks such as liking, retweeting, and tagging other users. This benefits businesses immensely despite costing them quite a bit.
For instance, if an NFT collection releases another new collection of PFP NFTs, some of those assets can be airdropped on Twitter to excite followers and induce market hype. Proper planning is essential when it comes to conducting giveaways and airdrops in crypto Twitter.
Post Original and Unique Content
As a crypto business, hosting airdrops and giveaways on Twitter is a great way to convert followers into customers. Typical giveaways include crypto coins and NFT assets, to get which one has to do a set of tasks such as liking, retweeting, and tagging other users. This benefits businesses immensely despite costing them quite a bit.
For example, a crypto exchange should post content relevant to how its platform is unique compared to others in a conversational and friendly tone. It is essential to maintain a cool and inspiring tone in your tweets to increase trust among your followers.
Use Hashtags to Get Noticed
Crypto Twitter is a place where hashtags have an increased value with trends based on hashtags. A crypto venture can utilize relevant hashtags in its tweets to establish itself as a thought leader by stating its take on the current occurrences. Again, using hashtags should be kept minimal, as they tend to be distractive.
For example, this tweet from Coinbase mentions Ripple's victory against the lawsuit filed by SEC. It would have been enough for Coinbase to tweet, "XRP is now available for trading." But by digging into the scenario that enabled the action, the platform stands tall as a market leader.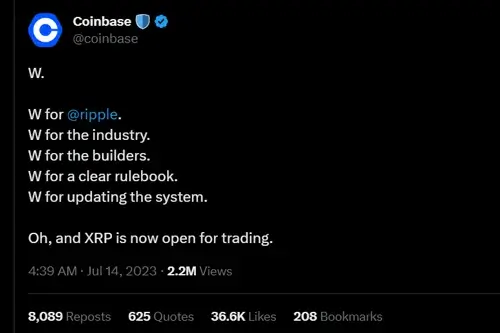 Interact and Engage with the Community
Twitterati generally expects businesses to interact with them via tweets. Doing so as a crypto business allows it to be perceived by followers to be responsive, a trait that crypto-savvy people love. This is especially useful when a project is yet to be launched, and it needs support from followers.
For example, an NFT marketplace can respond to a follower's tweet questioning one of the platform's features. Replies to comments under its tweets can also make the business desired by people. Interactive communication outside of Discord servers helps businesses to strengthen their position in the competitive market.
Pin Important Tweets to Profile
Twitter allows users to pin tweets on their profiles to let them display important things on top of everything else. Crypto ventures can use this to good effect by pinning tweets pertaining to the latest updates, upcoming events, and launches. Having these enable followers – existing and new, to know about the recent events at the business.
For example, an NFT game could pin a tweet speaking about its latest version coming up at a specific date. This tweet will stand on top of all other content in the profile, allowing followers to know when to expect the new update to launch.
Maximize Interactions through Twitter Spaces
Last year, Twitter launched Spaces that let people communicate in groups via voice, similar to Clubhouse. Upon launch, Spaces became a sensation as many businesses and celebrities utilized it to get closer to their followers. Interacting through Spaces can help a crypto project gain follower support and enable it to host AMAs and interactive sessions.
For instance, a crypto project might use spaces to convey its progress over the course of its launch. Project owners can communicate with investors and other followers to let them know of advancements. It can even conduct sessions where influential individuals interact as part of promotions.
Become a Centre of Hype and Attention
Crypto projects can garner phenomenal attention if they do things right on Twitter. To achieve it, a venture needs to have a community that acts as a voice of its brand through constant tweets. We know how creative followers can get through memes, videos, and puns if they love a business too much.
For example, a crypto exchange can ride on memes posted by its followers that want the platform to list a particular trending cryptocurrency. If the platform heeds their demands, it can spark a conversation, and the cycle will continue.
Ride the Crypto Hype Train to Launch Your Crypto Business to the Moon!
Utilize Crypto Twitter Influencers
Influencers have become an integral part of the current internet, and Twitter isn't an exception. Businesses, especially those based on crypto technology, use these individuals effectively to drive user traffic and build their communities. A factor to note is that a business should partner with influencers who work in its niche for optimal results.
Depending on follower counts, influencers may be categorized into nano (< 1,000), micro (1,000 - 100,000), macro (100,000 - 1 million), and mega (> 1 million). It is important to work with predefined terms and conditions to execute the crypto Twitter influencer marketing campaign without hassles.
Get Mentions from Crypto Media Handles
If you plan to build a crypto brand, it wouldn't be possible to achieve it until you gain recognition from established media outlets in the space. You can utilize Twitter for the task in a number of ways. It can be as simple as tagging a media house to more complex as forming a business collaboration.
Most times, getting mentioned by crypto media pages on Twitter needs a lot of background work in terms of quality content, hashtag usage, and brand building. A project's novelty and the pain points it aims to address can also elevate the prospects of getting noticed by the media.
Forge Business Collaborations
While partnering with fellow businesses seems like a regular crypto marketing strategy, putting it to use on Twitter makes more sense. Reason? By this time, you might have known how much crypto businesses cherish their Twitter handles. Hence, collaborating with an existing project on Twitter becomes an easy way to gain exposure and attention.
Partnership activities on Twitter can range from combined giveaways to interactive sessions on Twitter Spaces. But, collaborative efforts need not be restricted to projects within a niche. For example, an NFT collection can partner with an NFT game or a marketplace to offer different utilities while promoting itself to the market.
Analyze, Monitor, and Improve
Promoting crypto on Twitter isn't accomplished until you know how successful your efforts are. Using Twitter's in-built analytics, crypto businesses can monitor and analyze the metrics of their posts and plan improvements accordingly. Dashboards for tweet activity, follower exploration, and Twitter Card tracking are commonly used by analysts to monitor promotions.
Based on the information in hand, a crypto business can implement strategies differently and try new ones. If existing ones work out, the business can aim to increase engagement levels. Constantly refining your approach to match changing market trends and sentiments can lift your business to new levels in the long run.
Experiment to Gain Insights
Now you know the different crypto marketing strategies for Twitter, you should understand that it isn't necessary to restrict yourself to the predefined ways. If you have an idea that sounds underused or unconventional, try utilizing it as long as it doesn't bring negative publicity to your business.
Making use of a combination of strategies in different intensities can help your crypto business to find the perfect community for your business. With Twitter becoming the center point of the crypto space, the necessity for businesses and creators to use the platform becomes vital.
Rise to Crypto Stardom with Experimental Promotions on Twitter Powered by Our Team!
How to Utilize Crypto Twitter Ad Campaigns?
So far, we haven't discussed crypto Twitter ad campaigns. Don't worry; we didn't want to ignore it – We that this strategy deserves a separate section, and here we are! Twitter ads for crypto businesses can be of different types, including Promoted Tweets, Promoted Accounts, Promoted Trends, and Promoted Moments.
Posting paid ads on Twitter can assist projects in expanding their reach and collecting feedback from the existing community. A stat we touched upon earlier (users spend 26% more time on Twitter watching ads) reinforces the effect of ad campaigns for businesses. We will see several ways to achieve huge success using ad campaigns in the upcoming sections.
Create Eye-Catching Ads
Firstly, any crypto Twitter ad should be eye-catching by using multiple mediums in a tweet. The advert should be visually appealing while clearly letting a viewer know your venture's unique proposition within seconds. We say "seconds" since average online attention spans are less than 8 seconds.
In Twitter, the span is likely to be lesser, as posts are shorter, and a scroll on the mobile version of the platform can skip through several tweets. Hence, presenting your business ads in a tone appealing to the viewer while not diverging from your theme should be essential in order to drive traction for your venture.
Use Powerful CTAs
Things don't end with eye-catching tweets; in fact, everything begins afterward. The content in the tweet should encourage users to take action, supplemented by suitable Call-To-Action (CTA) linkages. Action phrases such as "Contact Us," "Join Now," "Get an Overview," and "Become a Member" can help your advertisements gain success.
Remember, you will be spending a lot of money on Twitter ads, and you wouldn't want your campaign to go wasted. Hence, complementing great-looking ads with powerful CTA linkages can lead to increased efficiency for the resources spent. Irrespective of the campaign type (follower, engagement, etc.), using Call-To-Action statements is a best practice.
Shatter Limits with Twitter Cards
Twitter calls sharing attachments through tweets "Twitter Cards," and crypto businesses can tap into this option to convey information in detail. These cards enable ventures to stroll beyond the 280-character iron curtain Twitter has through links to external resources. These links can redirect to videos, websites, app store pages, and marketplace listings.
Cards on Twitter are classified into different types like "Summary Card," "Summary Card with Large Image," "App Card," and "Player Card," which focus on different display and redirection formats. Most crypto Twitter marketing campaigns benefit immensely from rich-looking Twitter Cards that build traction and following for businesses.
Refresh Crypto Twitter Ads
Refreshing crypto Twitter ads apply when you run ad campaigns continuously. Although the application places advertisements running for an extended time, it is wise to have a timestamp as up-to-date as possible. Updating Twitter ads can also be based on appealing to the market per the changing trends.
Performing such optimization together with timely landing page updates can also allow your crypto business to stay on top of the trends. With the crypto market having seasonal variations, it is ideal to refresh ads on Twitter to fit the current trends so that valuable investments do not go wasted.
Optimize for Mobile Devices
When you are creating Twitter ads for crypto ventures, it is important to make them optimal to view on mobile devices, as most Twitter users access the platform using smartphones. Even though the platform's nature appeals to mobile users, optimizing advertisements with suitable content and graphics could increase market reach.
Optimizing ads does not have to be limited to tweets themselves but to any landing pages you would attach, as not having a proper web page could lead to higher bounce rates that could reduce its SEO reputation. Hence, a combination of web design and ad management is ideal for aspiring businesses.
Try Multiple Formats
The multidimensional nature of Twitter ads leads marketers to use various formats that effectively use text, image, audio, and video. Twitter currently supports five ad categories that include "Image Ads," "Video Ads," "Carousel Ads," "Moment Ads," and "Text Ads." According to a statistic on Twitter's website, campaign awareness increases by 20% and purchase intent by 7% for businesses that use three or more formats.
Additionally, "Amplify," "Takeover," and "Live" allow crypto businesses to conduct ad campaigns that relay their brand in various ways. Also, pathways like polls, conversation buttons, branded hashtags, and branded notifications can increase engagement and awareness faster.
Utilize User Targeting Provisions
With various targeting mechanisms and "Dynamic Product Ads," Twitter continues to be an impressive haven for crypto projects. The platform allows advertisers to utilize demographics, audience types, and known audiences when promoting via ad campaigns. Such offerings provide immense advantages to crypto brands wanting to gain exposure in the competitive market.
While Twitter might be a Web2 medium, the role it has in elevating crypto and NFT businesses to stardom is astonishing. Also, as we are amidst a period of transition from Web2 to Web3, it is perfectly acceptable to target users based on such mechanisms.
Be Experimental and Patient
Running ads as part of your crypto Twitter marketing campaign needs a lot of experimentation and patience to achieve desired results. This is partly due to the crypto market's adoptive phase and the existing competition in the market. As experts in performing Twitter ad campaigns, we emphasize experimenting with using multiple formats.
Also, you should remember to begin campaigns much earlier than the actual project launch. Doing so can empower you to gain an understanding of your target audience and market trends and test various content formats. Patience plays a vital role in enabling you to continue the campaign irrespective of short-term trends.
In-House Marketing Vs. Outsourcing Promotions: Which is the Best?
Both in-house and outsourced crypto Twitter marketing teams excel in their tasks. A thought to spare will be the higher time and resources required to recruit, train, and work with an in-house team compared to outsourcing one. As experts in promoting crypto ventures on Twitter, we offer expert services powered by time-tested strategies which you can rely upon.
Cost for Promoting Crypto in Twitter
The cost for promoting crypto in Twitter varies per project demands, as various strategies are used in different ways according to individual business propositions. If you are eager to get a quote, we urge you to contact one of our representatives with your business needs to get a plan tailored specially for your project.
Conclusion
Therefore, we have seen extensively about crypto Twitter marketing. With crypto adoption skyrocketing to never-seen levels, it is imperative that businesses aspiring to make a mark in the digital space should have exclusive crypto marketing strategies for Twitter. If you are one of them wondering about the next step, our team is here with the necessary personnel, technology, and experience to aid your project to success. Talk with our experts today to get a specialized crypto Twitter marketing plan!