Semi Fungible Token Development Platform
Non-fungible tokens (NFTs) have played a dominant role in deciding the crypto space's position today, and they have changed the way how things are owned in the digital world. But, the process of transferring huge collections of NFTs is becoming out of scope with the amount of inefficiency present, and that is where the concept of semi-fungible token development comes into play. A semi-fungible crypto token development platform can perform the work of creating multi-faceted semi-fungible tokens easily, which exhibit both fungibility as well as non-fungibility. The gas fees for transactions get lower since only a single smart contract is used to complete the whole transaction. With the ability of Blockchain App Factory's experts to adapt to emerging technologies, it is only imminent that semi-fungible token development can only get easier for them with their sheer experience with blockchains.
What is a Semi-fungible Token (SFT)?
A semi-fungible token (SFT) is a virtual token that possesses both fungible and non-fungible nature. Initially, an SFT would be fungible where a token can be exchanged for another with the same value, after which it becomes non-fungible while remembering its attributes. These are a newer extension of the current blockchain-based applications and aim to combat the shortcomings of the existing applications. For example, a ticket to a game can be exchanged with another ticket for the same game in the same seating region before the game. But, after the game, though, the ticket loses its redeemable nature and becomes a collectible, and cannot be exchanged for another ticket for any reason whatsoever. The expiring nature of semi-fungible tokens becomes instrumental in their conversion from fungible tokens to non-fungible tokens.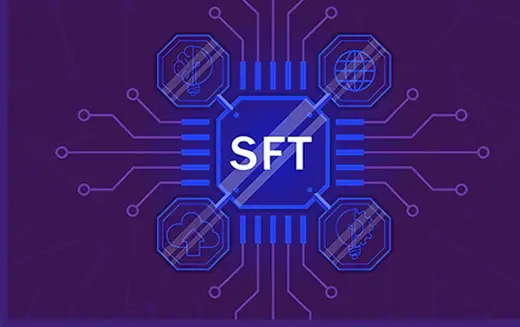 Uses of Semi-fungible Token

In-game Assets
SFT development for blockchain games can offer semi-fungible tokens with utilities that make them work as currency and assets such as weapons.

Event Tickets
With ticketing becoming digital, semi-fungible crypto tokens can be used as redeemable tickets before an event and collectibles after the event.

Voucher Coupons
Semi-fungible tokens here act as the same, with tokens exchangeable before redemption for an offer/gift and non-fungible collectibles after redeeming.
What are the Advantages of Semi Fungible Crypto Tokens?

Fungibility After Trading
A semi-fungible token remains fungible even after being traded from the initial owner and can be easily traded across exchanges, and liquidity is ensured.

Multi-use Token
A SFT can both be fungible before and non-fungible after redemption and can be used to verify the attributes of a person/product.

Widely Used in Games
Semi-fungible token development can be advantageous for games as they can be used to represent currency or weapons in them and record their history.

Tradability
As semi-fungible crypto tokens have both fungibility and non-fungibility built in them, they can allow trading of fractionalized assets which is seen as a boon.

Easily Developable
Since SFTs are currently being built on the existing Ethereum network using the already available EIP-721 standard, SFT development gets easier for developers.

Offers Flexibility
Owing to their nature, semi-fungible tokens are more flexible than their counterparts, which gives them a competitive advantage in the gaming industry for gamers and developers.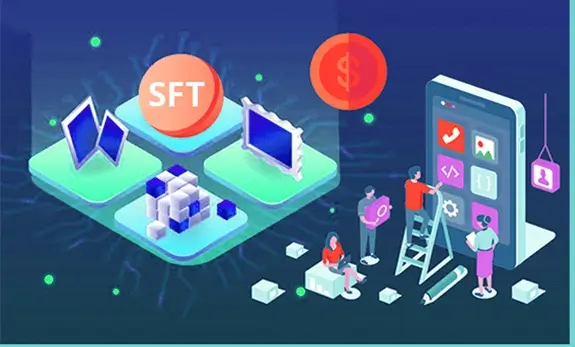 Develop Your Semi Fungible Token
Today, NFTs have occupied the peak spot in the crypto world due to their nature of proving ownership, authenticity, and immutability. But, yet they have a few shortcomings, such as usability in only limited places, which can be overcome by semi-fungible tokens. Semi-fungible crypto token development can be the ultimate solution as these virtual tokens have a lot more utility, creating some liquidity for such assets in the process. Semi-fungible token development involves the usage of the EIP-721 standard, a deviation from ERC-20 (for cryptocurrencies), and ERC-1155 (for non-fungible tokens) that result in conducting transfers of token batches quickly and efficiently. The blockchain gaming domain has already sowed the seed for SFT development, and it would not be soon to know the results across the crypto sphere.
Why Choose Blockchain App Factory for Semi Fungible Token Development?
A pioneer in the blockchain development industry, Blockchain App Factory has been in business since the early big moves in the crypto world occurred. Our experienced developers have seen everything unfold in the crypto space and have been applying what they have learned in the process. Our semi-fungible token development services incorporate advanced technologies into your SFT tokens by utilizing necessary standards and development practices. We flourish with every challenge thrown to us, and we seek to bring out the best products for your semi-fungible token development. Chat with one of our experts now to revolutionize the crypto sphere with SFTs.
We Spotlighted In
---









We are Partnering With





create your token
×