NFT Exchange Platform Development Services
NFTs are the present buzz in the digital world. This is a relatively new concept that rose to the occasion a few years ago. But, nothing to worry about because our NFT exchange platform development company will guide you meticulously. Blockchain App Factory is one of the best companies in the world that will perfectly fit your style of doing business in the digital spectrum. Non-fungible tokens are everywhere; each and every business entity is adopting this concept to explore something incredibly new and refreshing.
Our exclusive services and development parameters are extensive and there are immense options for you to choose from. At present, the digital market is filled with a wide range of platforms that are conducting NFT businesses and the availability of these business platforms are immense. Thus, simple construction is insufficient. Hence, we are there, to develop the best NFT exchange platform and make you one of the best in the field in no time. Hence, now is the time to start something special from the scratch and we are the right partner for you to traverse the crypto universe with excellent beneficial factors and features.
Significance of NFT in DeFi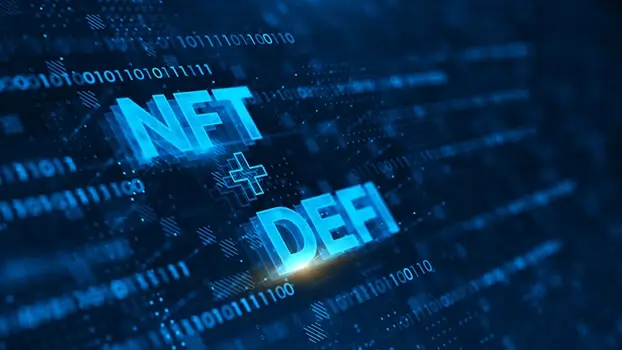 Non-fungible tokens are the digital representation of unique assets that adds intrinsic value to your unique collectibles. The value of a token depends on the value of its assets which can be sold in billions. The unique representation of digital assets adds to its value allowing DeFi platforms to accept NFTs as collateral. NFTs' indivisible nature does not allow NFTs to exchange for each other. To offer a transaction facility for NFTs, the DeFi platform offers an innovative solution to offer immediate liquidity for your NFTs.
These attract huge investors towards the creation of NFTs. Liquidity is the prominent feature of any tokens. By offering such an irreplaceable solution for NFTs by mitigating the inconvenience of its standards, DeFi finds NFTs as a booster to gain traction back to the platform and introduces a cross-exchange platform that provides immediate liquidity for the NFTs. The NFT exchange platform uplifts the DeFi services by accepting NFTs as collateral for immediate liquidity which also supports the development of NFTs.
How does Our NFT Exchange Software Works?
The workflow NFT trading marketplace involves lined up procedures to be followed in order to build a successful NFT.
Sign In/ Sign Up
Reach the NFT trading platform you deed to purchase and enter the login credential if you already have an account.
If you don't have an account, just create an account in the exchange platform by filling out the required fields.
Miniting/ Listing
Once you logged in, connect the account with your crypto wallet in order to proceed with making the transaction.
After connecting the wallet, upload your asset and give your desired choice, finally mint your own NFT.
Selling NFT
Set up the description, your profile, and secondary fee and customize the property of your NFT asset.
You can sell the NFT asset and set the trade rule "fixed price" or "auction" and let the world explore your NFT.
Buying NFT
Search for the desired NFT exchange marketplace based on your requirement and business objective
Buy them if it suits the crypto-wallet that you integrated earlier with the NFT exchange platform.
Driving Factors of our NFT Trading Exchange platform
NFT trading platforms have the core functionalities that make them recursively approach the NFT exchange marketplace for various purposes
Token Standards
The NFTs need special token standards to present their uniqueness, indivisible and other features to the asset. So it is mandatory to pick those standard tokens that support NFT characteristics.
Search Engine
The search engine is also a mandatory feature that needs to be available in the NFT exchange platform. This will aid the user in finding their desired NFT and allows them to buy them if it suits their needs.
Trade Rule
Trade Rule is something that enables the creator or seller to fix a rule to buy their product, the same in NFT creators or sellers can set the rule between "Fixed price" or "auction" in order to buy that NFT.
Wallet Integration
Wallets are essential in the NFT exchange platform, and they help the user receive and send funds for making the trade with the NFTs. They are decentralized and immutable. Wallets will offer to stake the NFT too.
Support
Customer relationships are the best way to enhance your business to the next level, and you need to be more conscious of what people think about your platform. Support and feedback forms play a vital role in that.
Exchange platform development in Multi-Chain
Exchange platform for NFT offers its services in multi-chain networks to avail of its profound benefits. Each network has its significant services and specialities. The increased services in the network result in complications with improved NFT exchange fees or gas fees with low performance and throughput. Multiple networks arise in the market to solve this issue with increased throughput in low transaction fees. These networks offer unique features for the reliable performance of your platform with efficient services. We equip your NFT exchange platform with all the significant features and deploy it in multi-chain networks for global performance and seamless exchange opportunities.
Features of NFT exchange platform
High TPS
Our NFT trading exchange platform provides higher throughput that performs millions of transactions per second without interruption.
Multi-currency Wallet
Our Trading platform for NFT supports multiple cryptocurrencies for secured and smooth transactions.
Liquidity Option
A secure API connection with external exchanges helps achieve immediate liquidity for NFTs.
Crypto and Fiat Support
Immediate liquidity for NFT offered in the form of cryptocurrency and fiat currencies.
KYC and AML
Geography-based KYC/AML comes into effect for user identity verification to withdraw bulk amounts.
Referral and Reward Program
Our reward system in the NFT crypto exchange benefits users with extra-ordinary offers and services.
Multi-Language Support
We offer NFT crypto exchange platforms with multi-language support and interactive UI for better user experiences.
Bot Trading
Our meticulously crafted algorithm offers precise trading experiences.
Multi-layer Security
We build NFT exchange with multi-layer security and two-factor authentication for military-grade security.
Advanced Chart Tools
The platform offers trading charts and metrics for strategic trading experience.
Staking
Our staking and investment strategy assists you to create a better revenue stream.
Powerful Trade Engine
We offer built-in NFT trading dashboard with order types for a market order, limit order, and stop order for an enhanced trading experience.
Multi-chain connectivity
Our NFT exchange platform offers multichain connectivity support to accelerate the performance and ability of blockchain with the Polkadot ecosystem.
Security features of our NFT exchange platform
HTTP Authentication.
Cross-Site Request Forgery Protection.
Prevents Jail Login.
Anti-Denial of Service.
Data Encryption.
Anti-Distributed Denial of Service.
Server-Side Protection.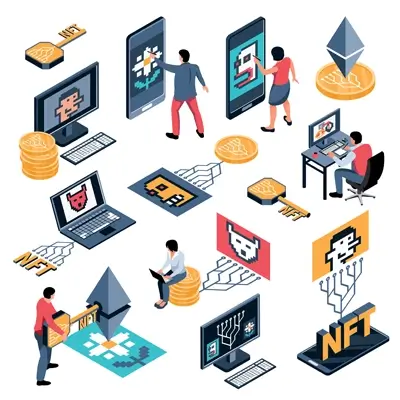 Milestones of Our Leading NFT Exchange Platform Development
We, The Industries best development, offer you the extended and efficient plan for letting you know the way we work. The road map of the Best crypto and NFT trading platform is as below.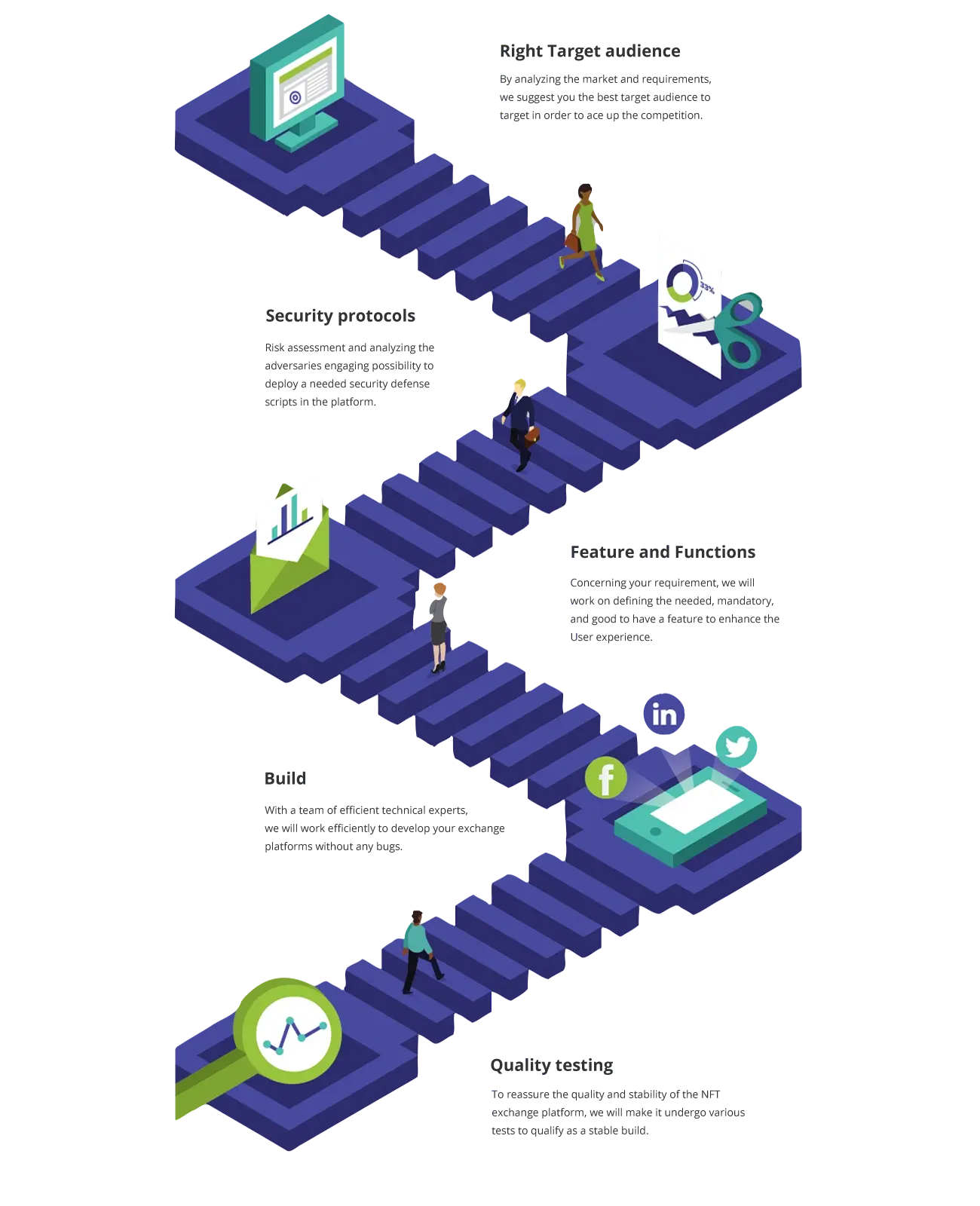 Non- fungible token standards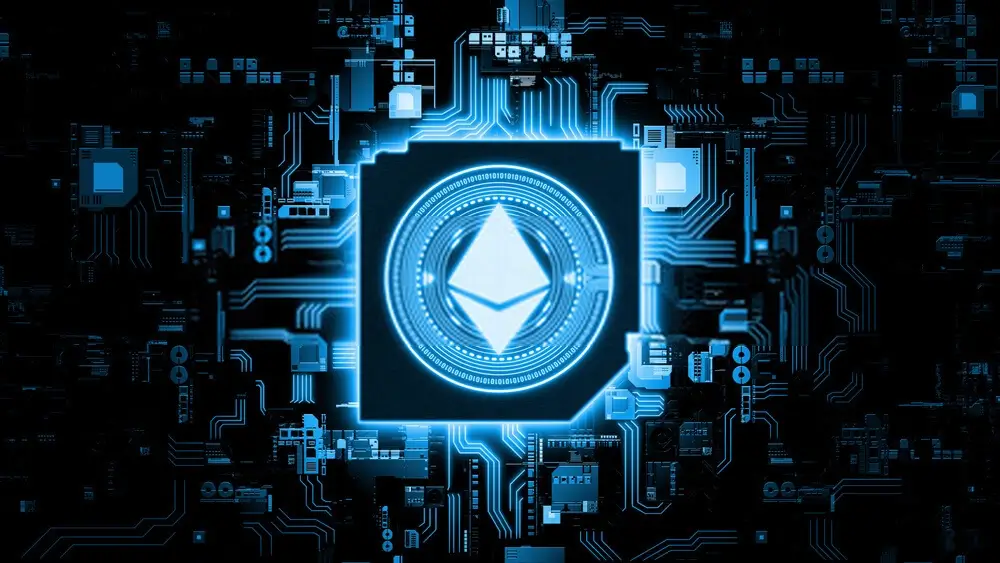 ERC 721
Ethereum token standard ERC -721 facilitate the digital representation of your unique assets. NFTs possess unique features and characteristics which add intrinsic value to your unique assets.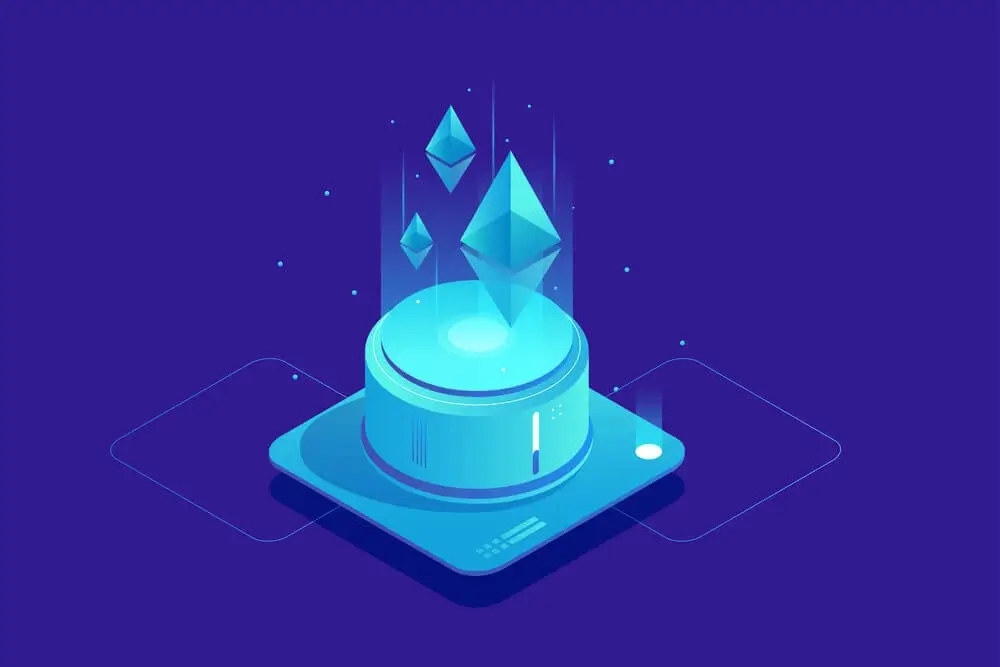 ERC 1155
Enjin's 1155 offers a semi fungibility feature for your NFTs that allows the user to trade and transfer NFTs for exchange. This token standard offers flexibility and scalability for your unique assets.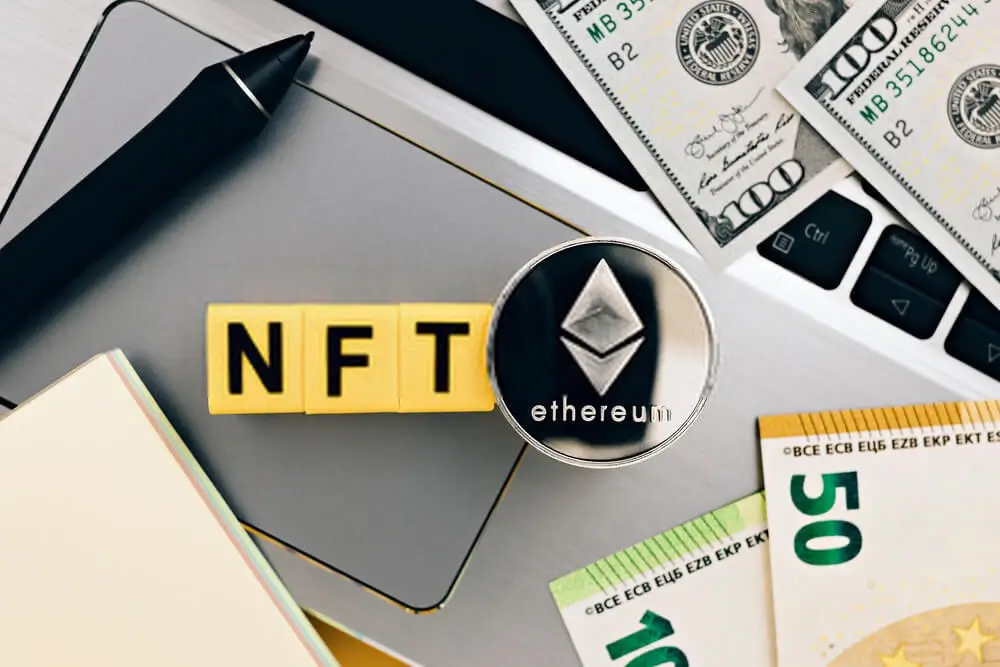 ERC 998
This token comprises multiple ERC-721 or ERC20 in a composition. This standard allows to compose multiple tokens in the same hierarchy that enables the users to own multiple NFTs or other tokens in a single purchase.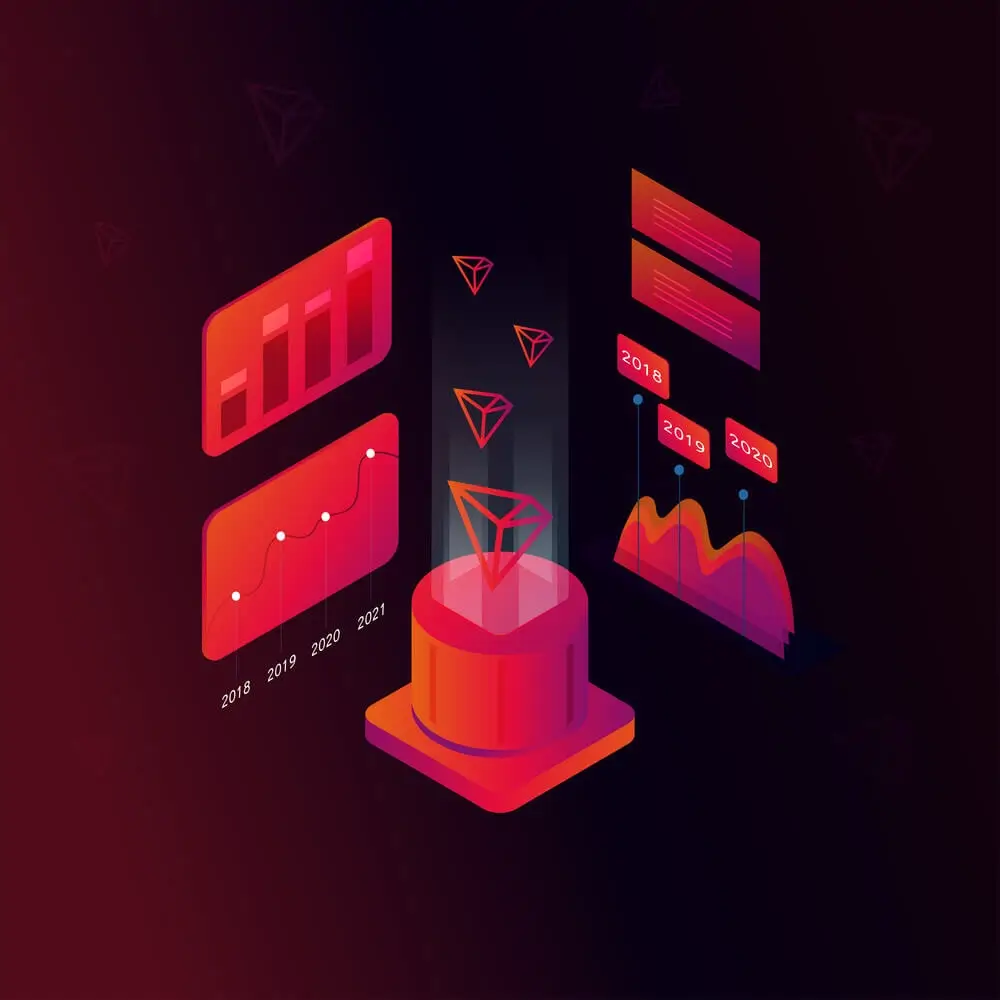 TRC 721
TRC-721 token standard is released by TRON, a significant blockchain network. This token standard is the inheritance of ERC 721 standards from ethereum that features transparency, scalability and security.
Business Benefits of NFT exchange platform owners
Robust platform
Cost-efficient
Customization
Plug & play
Huge market visibility
Audience traction
Precisely Tested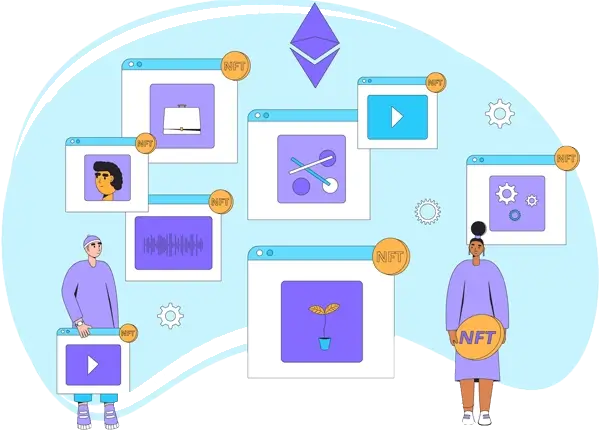 Boosting your Business with Blockchain App Factory's elegant craftsmanship
---
Our proficient team and our experience in blockchain technology do wonders in the blockchain industry with innovative products and solutions. Our contribution in the empowerment of blockchain technology supports the user with a better experience in a decentralized ecosystem with a secured and reliable environment.
We offer a wide range of blockchain services from DeFi to NFTs. Our End-to-End platform development empowers the NFT Trading Exchange with reliable security, futuristic technology and result-driven marketing strategies. We boost your business to gain traction in the crypto market with all its possibilities. Our significance and interest in NFT help us to develop innovative products for the market. Our expertise in blockchain technology enables us to Launch an NFT exchange platform across multiple blockchain technologies with cross-chain capabilities to make you a tough competitor in the raging crypto market.
We Spotlighted In
---









We are Partnering With





create your token
×