Smart Home Solutions To Make Your Home And Your Life Smarter
The rise of technology and its advancement has paved the way for many novel solutions that make our lives easier. One such innovation that is making many people jaw-drop is smart home automation. The trend of transforming regular homes into smart homes by the integration of a range of AI and IoT based solutions is rising at an unprecedented rate. You can also jump on the bandwagon of smart home automation with our resilient smart home solutions.
We, at Blockchain App Factory, present a wide range of smart devices that help you manage your home effortlessly. Thus, building intelligent homes and promoting smart living with endless possibilities of connecting and controlling your appliances on the go. We design, develop, and integrate our smart home products on your home with the utmost precision. All at an affordable price!
Our Robust Products To Deploy In Your Smart Home
Single Node Switch
The single node switch gives you the ability to monitor a single heavy load electrical device, preferably a geyser or chimney that has the current rating of up to 15A. By installing the switch, you can not only monitor the energy consumption of the device but also control and schedule their operations as per your requirement.
WiFi-based control
High wattage support
Effortless scheduling
Retrofit system
2 Node Switch
The two node switch is a plug and play solution that fits conveniently behind your switchboard. It can be connected to a maximum of two switches (lights, fans, etc.) that you wish to monitor and control. You can control the appliances, i.e., on/ off, over the WiFi right from your smartphone. In a nutshell, you can carry your switchboard in your pocket.
WiFi-based control
Set scenes
Control from anywhere
Plug and play solution
4 Node Switch
The four node switch is a robust smart home solution that can be fitted behind the switchboard hassle-free with its pragmatic plug and play feature. Similar to the two node switch, the four node switch lets you control your appliances remotely over the WiFi straight from your smartphone. The only difference is, you can monitor and control four devices concurrently.
WiFi-based control
Automatic on/ off
Multiple users
Plug and play solution
IR Remote
Infrared Remote (IR Remote) is a smart device that lets you control your IR-based devices effortlessly. Take control over your devices, including TV, set-top box, AC, and a lot more right from your smartphone. Being a plug and play solution, our IR Remote solution requires no wiring and can be installed and set up in less than 7 minutes.
WiFi-based control
Compatible with IR-based devices
Voice control
Boosts energy efficiency
Motion Sensor
Our solution Motion sensor is the ideal solution when it comes to conserving the energy consumption of your devices. With a 360-degree detection range, our solution scans the entire room and switches on or off the lights and LEDs automatically based on the presence or absence of humans. A convenient way to control your appliances!
120-degree view
Time delay 10">7'
Sensitivity 3>12m
Effortless mounting
Energy Meter
Monitor and control the energy consumption of each of your appliances by readily integrating them with our IoT powered energy meter solutions. Upon successful installation, our devices collect the data on their energy consumption and share them in the user-friendly Energy Meter Dashboard that comes as a part of the energy meter solution. This way, you can effortlessly keep a tab on the devices that consume more energy, thereby optimizing them to utilize the electricity efficiently.
IoT based solution
Live data monitoring
Efficient Energy Management
Easy installation
Leading-edge Smart Home Software Solutions
Energy Meter Dashboard
The user-friendly web dashboard comes as a part of the energy meter solution. Here, the data on energy consumption of all appliances received from the IoT energy meters are displayed. Also, it generates other information like cost comparison, overall energy consumption, etc., for your reference. You can manage your appliances effectively, thereby maximizing their energy productivity.
Smart Application
We offer a user-friendly smart home application that is developed to let you control your devices from anywhere, anytime - making your life easier. You can monitor their status, schedule their operations, set scenes, and a lot more, all on the go right from our smart application. Available for both Android and iOS devices.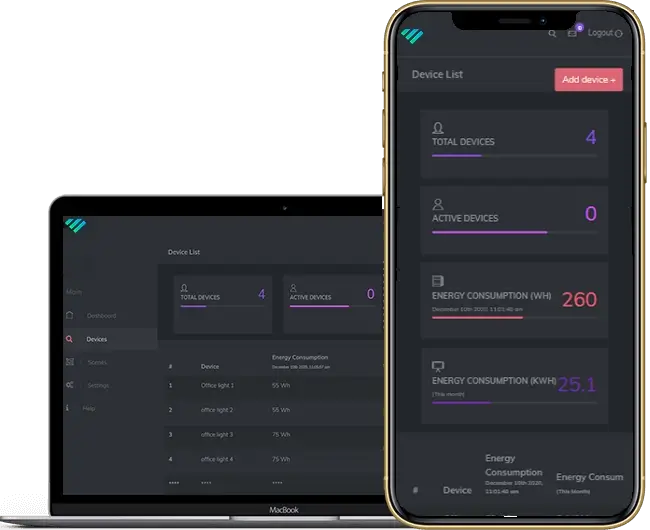 Cutting-edge Features Of Our Smart Home Solutions
Switch On / Off
Switch on or off or control your appliances to perform any operation remotely, right from your smartphone. Location is never a constraint when it comes to managing your smart home.
Set Scenes
Set scenes for various occasions/ moods, thereby customize your smart home as you wish with the support of our smart home solutions.
Scheduling
Schedule operations of your appliances hassle-free. Set the time for switching on or off a device in prior with ease, right from your smartphone.
Track energy consumption
Track the electricity consumption of all your appliances in real-time by viewing their data in the user-friendly web dashboard. This way, you can manage the energy consumption of the appliances efficiently, leading to maximum energy productivity.
Voice control
Controlling your appliances with your voice command is now made attainable with our smart home automation solutions. Connect the appliances with virtual assistants and control them effortlessly.
Analytical reports
The data collected are analyzed to present you with detailed reports on a regular basis that give you insights into managing the energy consumption of your smart home better.
Benefits Of Smart Home Automation
Convenience
By automating your smart home, you can conveniently control the appliances in your home right from your smartphone. Manage your home in one go!
Remote control
You can remotely operate the appliances in your home anytime, anywhere. A truly astounding feature of our smart home automation products.
Maximized energy efficiency
With our solutions onboard, you can make your space more energy-efficient. You can turn them off when unnecessary, saving power significantly. Also, you can monitor energy consumption and manage them efficiently.
Fault checks
You will be immediately notified when your appliances are not functioning properly or halt their operation, which you won't be able to identify otherwise.
Preventive maintenance
Upon noticing slight changes in energy consumption or functioning, you can immediately opt for maintenance of your appliances, thereby preventing them from faults.
Home management insights
Our software solutions generate data-driven reports periodically to keep you posted on the overall performance of your smart home. Also, you can gain insights from the reports shared, helping you manage your home expertly.