A Brief Introduction to Social Media-based NFT Marketplace
A social media-based NFT marketplace is where people can post and sell content. The content takes the form of NFTs, which can be sold inside the platform. Traditional social media was centralized, and content creators did not get enough benefits. Big corporations took most profit generated from millions of content creators and grew. On the other hand, content creators suffered a lot due to low benefits. Such negligence levels have led to many budding creators taking different routes. A social media-based NFT marketplace can be the solution all creators need badly. Photos, videos, blogs, and reels can be posted and sold to fans by creators.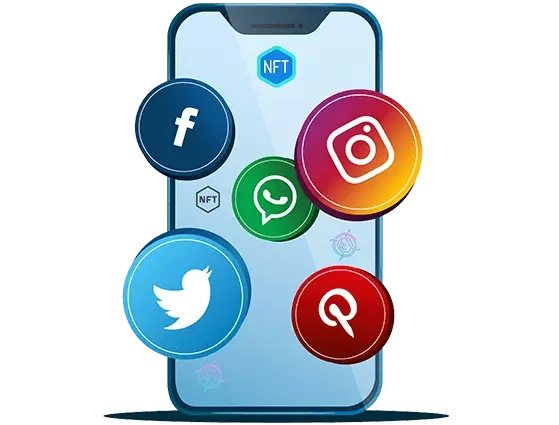 Social Media NFT Marketplace Development
Today, social media has become the favorite pastime for most people worldwide. These applications offer people access to different content from creators across the globe. But, with Web3, things get better as fans and creators can get closer. Using social media NFT marketplaces, creators can sell their content NFTs to fans. People who buy these NFTs can benefit from utilities or sell them to others. Creators sometimes can earn royalties for such secondary NFT sales on the platform. These platforms help creators earn much-needed recognition beyond follower and viewer counts. Also, these platforms eliminate intermediate corporations to handle user data, leading to decentralized communities.
How Does It Work?
Social media NFT marketplaces are a combination of social networking and NFT marketplace platforms. Users (creators/followers) should create accounts and link their crypto wallets to the platform. Creators can then create various forms of content and mint them as NFTs. Then, followers can place bids on the content NFTs until a deadline. The auction finishes if the creator likes a bid or the deadline is reached. The NFT is transferred to the buyer and the bid amount to the creator. These NFTs typically offer extra utilities, including access to exclusive meets and airdrops. Buyers can resell the NFTs to others, for which creators earn royalties. The marketplace platform takes some transaction fees for maintenance purposes. The fee collected will be more rational compared to Web2 corporations' money plundering.
Features of Social Media NFT Marketplace

User Profile
Here, one can view and modify their social media profile. All their posts will be displayed in the profile, and they can easily navigate between posts.

Feed
The feature is similar to the Web2 social media feed, where one can view posts. People can engage with content creators through likes, comments, and shares.

Crypto Wallet
This is an essential feature for any social media NFT marketplace platform. The integrated crypto wallet is where people can store cryptocurrencies, native tokens, and NFTs.

Minting Portal
Content creators can create posts and mint them as NFTs through these portals. Here, creators should enter details such as content, caption, hashtags, location, and costs.

Marketplace
This feature allows social NFTs to be sold and resold by NFT holders. It is similar to a full-scale NFT marketplace and has all relevant elements.

Bidding Portal
Prospective buyers can place bids on their favorite NFTs here. After the auction deadline, social media NFTs are transferred to buyers in exchange for crypto tokens.
Benefits of Social Media NFT Marketplace
Developing a social media NFT marketplace is particularly advantageous for small-time content creators. These people were unable to earn the monetary benefits from their virtual fame earlier. With social media NFTs, they can post and sell the NFTs of their content. This allows them to make money even for a simple photo or text. Social media NFT marketplaces help the cause by facilitating such activity without trouble. Fans can also virtually have a piece of their favorite creators' content. This helps strengthen the bond between creators and followers by eliminating intermediaries. These platforms can also help creators find new avenues in the Web3 world.
How Would the Social Media NFT Marketplace be a Disruptive Innovation?
A social media NFT marketplace will be the ideal platform for monetization for creators. Earlier, content from social media creators and influencers was taken for granted. Followers enjoyed consuming various forms of content, although they did not get benefits. But, corporations managing social media platforms earned huge money working as intermediaries. They made money through targeted marketing and viewer engagement on posts.
Creators who created posts did get their shares, although it was not fair. To fight such issues, Web3 had a solution using NFTs, which can be revolutionary.Social media NFT marketplaces have already positively disrupted many minds with their benefits. The possibility of making income through creating and trading content NFTs has impressed everyone. Creators and followers can now engage meaningfully outside comment sections through these platforms.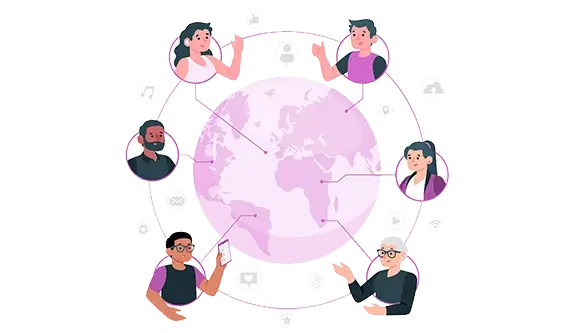 Why Should You Choose Blockchain App Factory?
Blockchain App Factory has always been at the forefront of innovation in Web3. Our experts have been part of creating many novel Web3 applications. Developing social media NFT marketplace platforms has been one such expertise of ours. We have already helped some aspiring entrepreneurs by developing social media NFT marketplaces. Our experts can fulfill all your needs on the platform while ensuring overall quality. We can also build your platform with all the advanced features existing today. We know the market pulse that helps us the most in developing applications. So, start with us today to make "true" social media come true.
We Spotlighted In
---









We are Partnering With





Free Consulting