NFT Marketplace - A Quick Guide
The blockchain business space has been full of innovations, with one bettering the other. But some solutions have a paramount presence in the space, impacting how the market evolves over time. The NFT marketplace is one such model that has been generating innovative sparks since its debut in the decentralized economy. The model's success can be attributed to people's sentiments toward Non-Fungible Tokens (NFTs). From the day the Ethereum network brought powerful smart contracts, the Web3 community has been creating NFTs that have evolved with time. From simple line art to complex multi-format creations, NFTs have seen all content forms across blockchain networks.
An NFT marketplace can be categorised into different models based on its target audience. Generic NFT marketplaces sell a variety of digital assets, enabling the wider community to use them. Popular examples include OpenSea, Magic Eden, Binance NFT, and Rarible. Niche NFT marketplaces are rather reserved in nature, as they restrict themselves to trading particular kinds of assets, appealing to a focused audience as a result. SuperRare, Foundation, Nifty Gateway, and Solanart are some of the famous niche-based NFT marketplaces.
NFT Marketplace Trends in 2023
NFT marketplace platforms have been trending in 2023, with the entry of new blockchains and new ventures that have impacted the space. The below statistics can help you deduce the latest trends surrounding the NFT marketplace business model in 2023.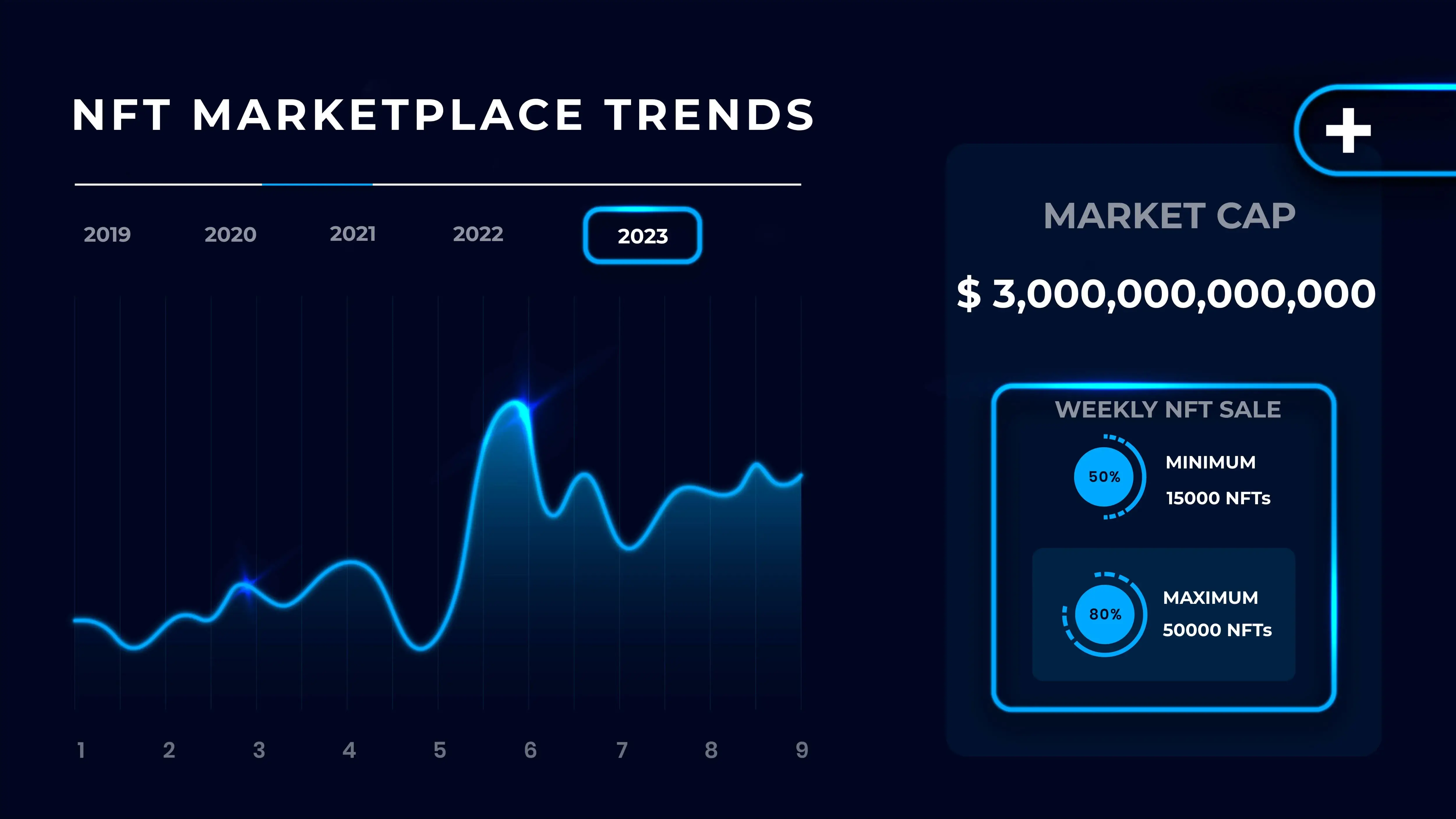 According to DappRadar, there are over 500 NFT marketplaces operating in the current ecosystem, including generic and niche-based platforms.

Weekly NFT sales in 2022 have been observed to be between 15,000 and 50,000. Although the fluctuation is higher, the figures are better compared to 2017, when NFTs first gained prominence.

CoinMarketCap's statistics reveal that the NFT market capitalization in May 2023 has already touched 3 trillion dollars, making it a worthwhile industry to invest in for businesses and consumers.

The 30-day sales volume for NFTs from the portal shows a value of over a million dollars, indicating the NFT space is on track to be embraced by the wider population.

As far as the market trends go, artworks are the most-selling NFT type in marketplaces, followed by profile picture (PFP) NFTs and in-game assets. Sports collectibles, virtual fashion products, and metaverse plots follow them if we consider the all-time NFT market trends.

The buzz around new blockchains into the NFT ecosystem, like Optimism, Arbitrum, and Bitcoin, meant existing marketplaces had expanded operations to these networks. OpenSea, tofuNFT, OKX NFT Marketplace, and Magic Eden are top examples of this.
The Architecture of an NFT Marketplace
If you plan to create NFT marketplace solutions for your business, it is important to know what powers the platform and how these work in conjunction with one another. With complex technologies involved, an NFT marketplace's behind-the-scenes work would sound like lines of code with loops enabled by input-output streams. The elements mentioned in the below sections play an essential role in establishing an NFT marketplace with utmost perfection.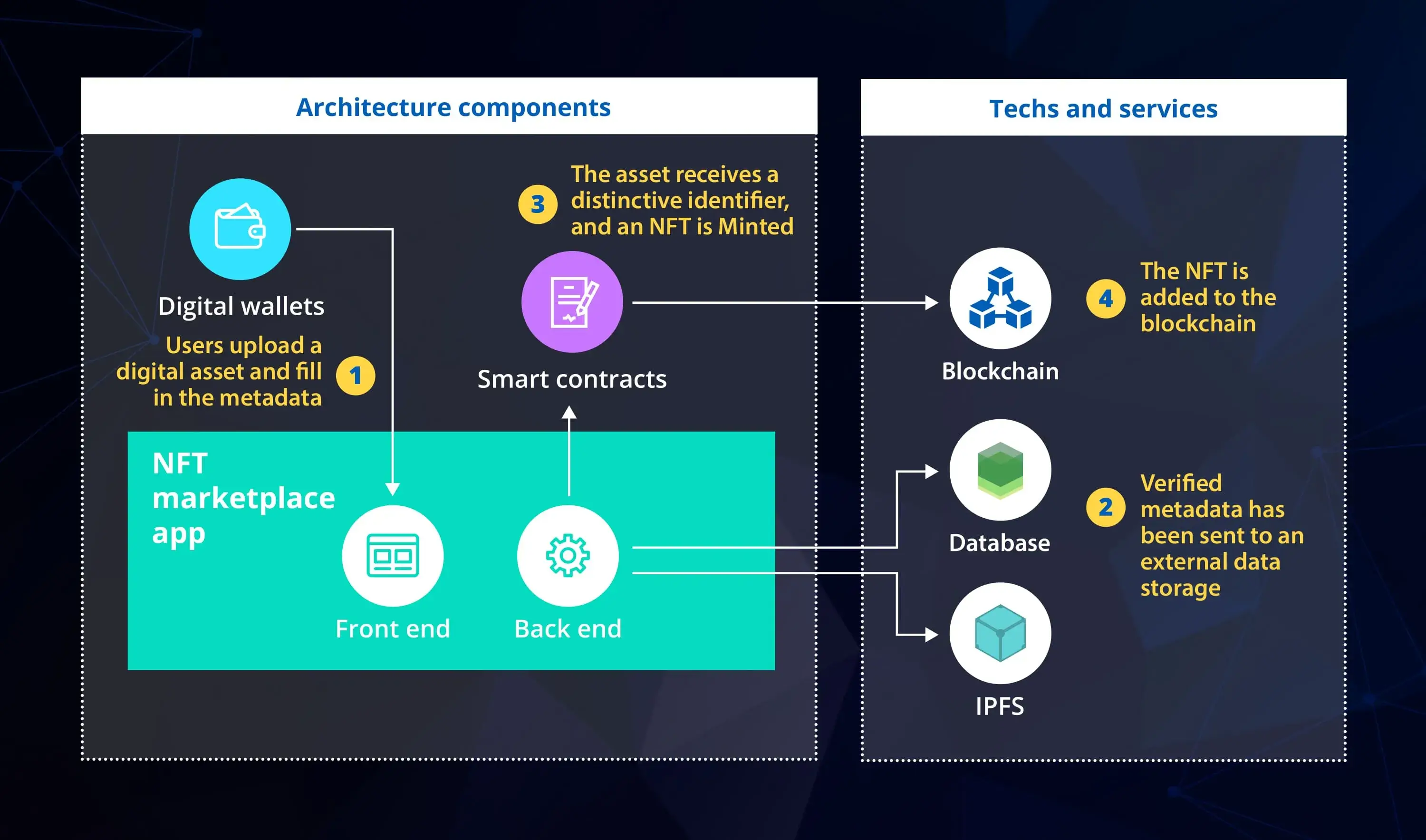 Blockchain Networks
Blockchain networks serve as the breathing air for NFT marketplaces as they reprise the role centralized servers had in the Web2 environment. These can be public (permissionless) or private (permissioned) in nature, with various levels of decentralization on offer. These networks record data related to all NFT items and transactions on the marketplace. It is not necessary to work with a unitary blockchain, as multi-chain and cross-chain functionality has evolved over the years.
Token Minting Portals
Minting non-fungible tokens for the assets to be backed is a necessity for any NFT marketplace in order to enable trades. The process involves entering data about the NFT item to be created, validating the data, and creating a new block on the network. The process entails a fee or gas that will be used to reward people who validate each transaction to ensure the network operates normally – miners in Proof-of-Work (PoW) blockchains and stakers in Proof-of-Stake (PoS) networks.
NFT Wallets
Multifunctional wallets with the capability to store and transact NFTs help facilitate the very use of an NFT marketplace. There are two options an NFT marketplace business can undertake when it comes to wallets – to offer an in-built wallet account or to offer provisions to connect third-party wallets. Each option has effects on how much control users and businesses have in the platform's operations. They should be able to function seamlessly with multi-faceted payment gateways.
NFT Metadata
Metadata, in the context of NFTs, consists of the actual NFT asset's content and relevant details. The content can be of different forms, including text, images, videos, music, generative content forms, and physical assets. Other information such as primary owner, creation time and date, attributes, and size also form part of an NFT's metadata. This data will be pointed to by an NFT entry that one buys in the marketplace, allowing only holders to utilize it with complete rights.
Decentralized Storage Systems
With large amounts of data generated through NFT creation every day, storing all of them directly on-chain is impossible, as the process might congest the blockchain, increase energy consumption, and raise transaction fees. Decentralized storage systems like InterPlanetary File Storage (IPFS), Filecoin, and Pinata allow NFT marketplaces to store data efficiently while ensuring maximum decentralization. Utilizing these systems helps NFT marketplaces to manage their expenses and help them retain customers by providing seamless services.
Smart Contracts
Smart contracts serve as the pillars for NFT marketplaces as these programs help in-app transactions to occur smoothly. An NFT marketplace has a smart contract for almost anything that involves a transaction – be it creating, buying, renting, or selling NFT items on the platform. These programs are typically written using blockchain-specific programming languages like Solidity and Rust. These programs execute an action when the predefined conditions are satisfied by the parties involved in the transaction.
Make use of our White label NFT Marketplace Software
Launch Your Exclusive NFT Marketplace
How Does an NFT Marketplace Work?
Before businesses decide to create NFT marketplace platforms, it is essential for them to understand their work in order to build a solution that offers a unique value proposition to users. Here, we present the 10-step workflow applicable to any NFT marketplace platform.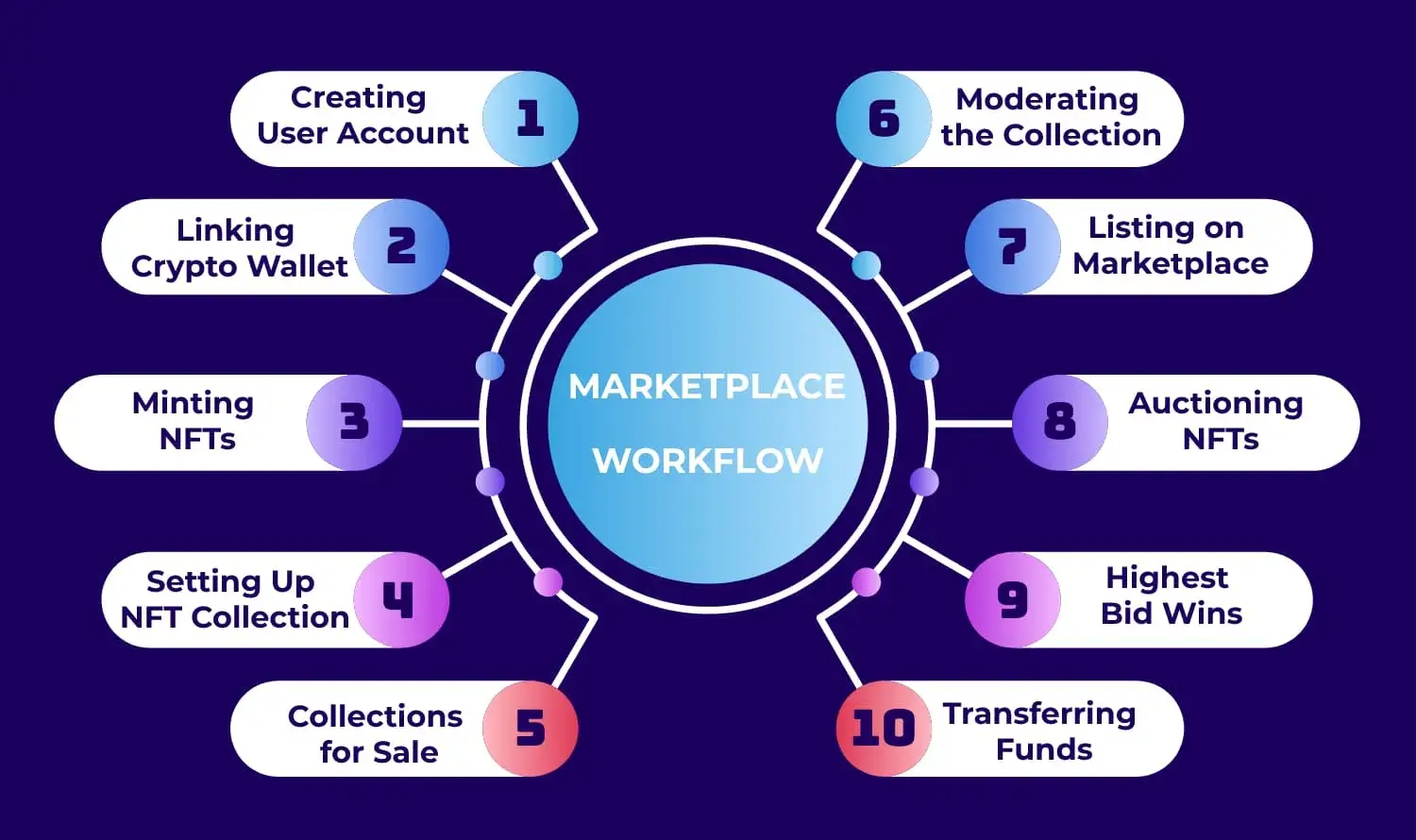 1. Creating User Account
First, a user should create an account in the NFT marketplace application by providing some basic details. A user profile will be created as a result that they can use to represent themselves in the marketplace.
2. Linking Crypto Wallet
Now, the user should connect their crypto wallet with their NFT marketplace account. Platforms typically offer support to popular wallet providers based on the blockchain(s) they operate. They can even have an in-built wallet that users can use in a closed environment. The user should also load some cryptocurrency into the wallet to be able to conduct transactions.
3. Minting NFTs
If the user intends to create and sell NFT assets, they should use the marketplace's minting portal to mint their digital collectibles. Here, one should enter the details of the NFT, including content, description, pricing, and numbers, and the portal will create the NFT for them.
4. Setting Up the NFT Collection
The seller can prepare to sell their NFTs by creating a special collection that contains an overview of what the collection is about and other relevant information. The process is very simple, and it can be conducted inside the marketplace's seller portal.
5. Listing Collection for Sale
The NFT collection can be put up for sale by sending it to the marketplace administrator for approval. The platform admins may be supporting staff, community members, or exclusively-programmed smart contracts based on the platform's business principles and degree of decentralization.
6. Moderating the Collection
The NFT collection listed by the seller is now moderated and verified for originality and content by an administrator. The platform may be administered by entities mentioned in the previous step. If the NFT collection satisfies the criteria put forth by the platform, it progresses to the next step.
7. Listing on the Marketplace
The NFT collection is now listed on the marketplace for sale in a relevant section. A fee might be charged for listing at times. NFTs can even be listed on the home page in case they have already generated hype or the seller wants to advertise it, which could incur additional expenses.
8. Auctioning NFTs
After listing on the marketplace for sale, the NFTs stay there for some time to let potential buyers look at them and place bids. The auction runs till a set deadline when people can place new bids. The auction portal gives live data about the sale for people to make informed decisions.
9. Highest Bid Wins
During the bidding process, the amount bid by one will be locked in a smart contract. In case their bid is the highest at the auction's end, they win the auction, and they can have the NFT item in their crypto wallet.
10. Transferring Funds
The funds locked in the smart contract will be released to the seller's wallet address, from which the platform takes a proportion as a transaction fee. The NFT will be sent to the buyer's wallet address, where they can hold the NFTs and take them to secondary sales if they wish to.
Why Should You Create NFT Marketplace Platforms?
As a business enthusiast, you should have already noticed the huge buzz around the NFT marketplace model. The platform's nature of appealing to a wide range of entities, including creators, brands, businesses, collectors, gamers, and traders, makes it vital in the Web3 space. It also supports different niches that offer business owners endless possibilities to explore.
You should plan to create an NFT marketplace as it is based on blockchain technology that defines the world's digital future. The platform also can be tweaked to suit various business needs, as it supports seamless integration into other platforms and offers interoperable interfaces across blockchains. Such flexibility levels enable a business to gain revenues around the year.
The model also comes with the possibility of getting the best out of both worlds, as ventures can improve customer satisfaction and engagement levels by integrating NFTs into real-world applications. An NFT marketplace also serves as a starting point for businesses exploring the wider decentralized space, as they can easily find the domain they want to focus on.
5 Steps to Create an NFT Marketplace
Creating an NFT marketplace can sound daunting for the inexperienced. But for our experts at Blockchain App Factory with extensive experience creating these solutions, the process is easier, allowing us to provide this 5-step guide. Before pressing forward to create the NFT marketplace, it is necessary for a business owner to decide on what kind of NFTs their venture should support. Alternatively, they can opt for a platform that sells a wide range of NFT assets. The below steps concentrate on the creation aspect of the core platform.

Step 1: Selecting the Blockchain Network(s)
While planning to Create NFT marketplace solutions, the first step usually begins with deciding the blockchain the platform will run on. One can either go for a single blockchain or multiple networks based on their unique business needs. Multiple layer-1 and layer-2 networks exist today that businesses can tap into for their marketplace.
Step 2: Deciding the Business's Nature
After finalizing the blockchain(s) for your business, you can go ahead and decide the platform's nature. You can either go for "Open" or "Closed" models. While the former offers provisions to trade multiple types of NFT items for transactions, the latter only allows to trade NFTs based on a single type.
Step 3: Set Your Platform's Looks
After closing on the business nature, it is time to define the NFT marketplace's front end. This part of the platform focuses on User Interfaces (UI) and User Experience (UX). Here, you can set how your platform looks and works by implementing UI/UX principles accordingly. Providing a seamless platform overall enhances its appeal to the target audience.
Step 4: Decide the Fee Mechanism
With the NFT marketplace platform almost ready, you should simultaneously decide how you are going to generate revenue from your new venture. You can set fees for various actions, including listing, transactions, minting, secondary selling, and in-app advertising. Charging either fixed fees or a proportion of every transaction, or a combination of both, is up to you.
Step 5: Build the User Community
Having a supportive community is vital for any NFT marketplace's success in the long run. But building a community is a huge task, and doing it gradually can result in a solid user base that can serve as a passive marketing medium. Make use of social media, community apps, influencers, press outlets, and NFT events to gain valuable reach and following.
While these steps might not discuss the core development process, following these can lead your venture to success. You should also note to prioritize platform security to safeguard it from bad actors. Conducting timely maintenance of the platform and releasing upgrades can enhance the marketplace's reputation among the global Web3 community.
How to Create an NFT Marketplace with the Right Features?
If you plan to create NFT marketplace platforms for your business, you would have a new set of points to decide on – Platform Features. A good NFT marketplace is blessed with numerous features that ease users' time on the platform. Here are some pioneering NFT marketplace features one should not miss.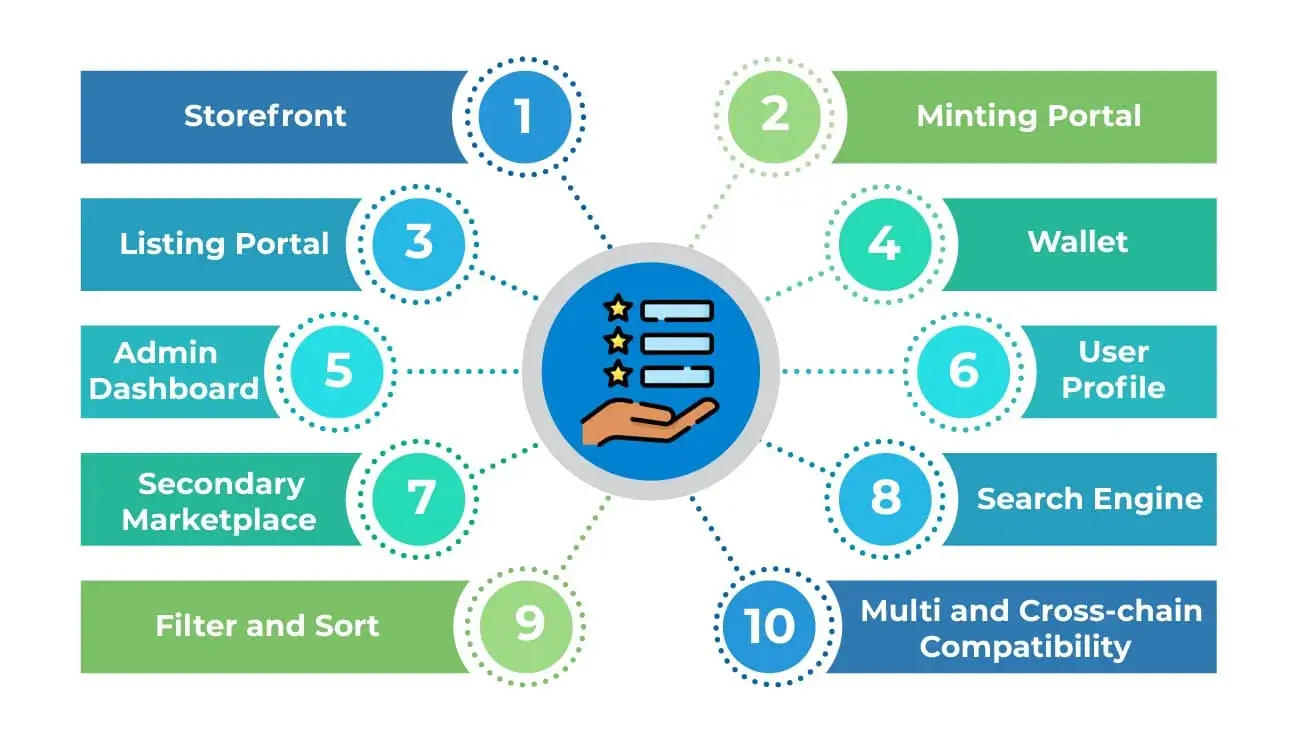 Storefront:
It offers information about NFT items listed on the platform, including descriptions, images, videos, owner history, price history, and buying options.
Minting Portal:
It allows creators/sellers to mint their NFTs on the blockchain by providing necessary information, including content, token standard, starting price, etc.
Listing Portal:
It enables sellers to list their NFTs for sale within a few clicks. The portal includes several procedures that vet the NFTs carefully before listing them for sale.
Wallet:
The marketplace provides an in-built wallet or allows users to connect external wallets to conduct NFT transactions and hold cryptocurrencies and NFTs.
Admin Dashboard:
The portal allows marketplace admins to approve NFTs, manage the platform, and monitor revenues to enable them to run the platform efficiently.
User Profile:
This option allows users to create their own profile inside the marketplace, which they can use for socializing and community governance purposes.
Secondary Marketplace:
This portal provides users an option to sell NFTs secondarily to yield profits. Revenue generated from sales can be split between the platform, the creator, and the seller.
Search Engine:
It enables users to navigate to their favorite NFT collections within a few clicks. Integrating suggestions to pop as one searches can offer a great user experience.
Filter and Sort:
These options enhance users' search results by providing information based on various constraints like price, type, creator, and blockchain.
Multi and Cross-chain Compatibility:
These provisions enable an NFT marketplace to function separately on multiple blockchains or interoperate across networks.
Top 5 Blockchains to Create an NFT Marketplace
For an NFT marketplace to yield success in a short time, it is essential for the platform to be based on a popular blockchain network. Here, we present the top five blockchains one can use to create NFT marketplace platforms.
Ethereum

BNB Chain

Polygon

Solana

Harmony

Avalanche

Cardano
Ethereum
Ethereum is the most popular blockchain for NFT marketplaces as it provides the world with the technology behind creating NFTs. It is fully open-source, decentralized, and highly secure, enabling anyone to be part of the network in some capacity without hassles. There is an NFT marketplace in Ethereum for almost every use case we know today, and more are coming up.
Polygon
A layer-2 solution on the Ethereum blockchain, Polygon has helped Ethereum in resolving scalability and transaction speed concerns by processing them separately. This network has been popular for its provisions upon the world's most famous blockchain, even making global brands opt for its support for their Web3 ventures. The network can be the ideal alternative to Ethereum for people wanting to Create an NFT marketplace.
Solana
A relatively new entrant into the Web3 space, Solana has been captivating ventures with its transaction speeds and high scalability. As the global community spreads to other networks, Solana is one of those highly welcomed among members, and there are several notable marketplaces in the network. Those wanting to focus on doing business for the long term can create their NFT marketplace platform in Solana.
BNB Chain
BNB Chain (previously known as Binance Smart Chain) is the blockchain from Binance, a powerful player in the crypto world. The network's low transaction costs and efficient speeds are two reasons why ventures want to create NFT marketplace platforms on it. With a great ecosystem, BNB Chain can be the go-to network for a newbie NFT marketplace enterprise.
Cardano
Cardano is one of the earliest networks to use the Proof-of-Stake (PoS) mechanism to validate transactions, and its longevity has helped it gain a foothold in the NFT space. The blockchain addresses the problems exhibited by other networks like scalability, security, and flexibility. Ventures can create NFT marketplaces on Cardano as the network's focus on NFTs is increasing with time.
How Much Does It Cost to Create an NFT Marketplace?
While we cannot precisely predict the cost to Create NFT marketplace software, we can say that it ranges between a few hundred thousand to a million dollars. Which spectrum of the range your NFT marketplace's cost will solely depend on the below factors:
The NFT marketplace's sophistication in terms of design and architecture.

The number of blockchain networks the platform is integrated with.

The number of Web3 wallets integrated into the platform.

The number and complexity of smart contract programs in the marketplace.
Our experts at Blockchain App Factory can offer you an approximation of the price to create your NFT marketplace based on your business requirements.
Create an NFT Marketplace with Blockchain App Factory!
As a leader in innovation in the NFT space, Blockchain App Factory constantly brings state-of-the-art NFT marketplaces for its global clientele. Our excellence in design, development, testing, and post-launch support for NFT marketplace solutions makes us one of the best in the world. With new NFT marketplaces budding with novel features, you should take advantage of the growing market to establish your presence as a business.