10+ Years
Experience in Blockchain
Blockchain Development Service Provider
The Blockchain is a unique globally distributed ledger that contains the transaction details, records, and information using cryptography based technologies. Web 3.0 based on blockchains is now a reality due to rapid technological development in the field. Blockchains are an important element in Web 3.0 as they help host applications created using the technology. It offers a stable and secured transaction which makes hacking or altering impossible. In tech terms, data via blockchain is immutable.
We are the leaders in Blockchain Application Development and our services have led 50+ clients around the globe in innovating blockchain networks and solutions for innovations across industries. Our team of Blockchain software developers is dedicated to providing the best blockchain development solutions to existing businesses, startups, new age entrepreneurs and Industries.
Our Blockchain Development Services
Our Blockchain development services encompass a wide range of offerings designed to create, maintain, and enhance blockchain-based systems and applications. These services cater to businesses and organizations looking to leverage blockchain technology for various purposes, including security, transparency, and decentralization.
Our Custom Blockchain App Development Process
The blockchain app development process involves several key steps to create decentralized applications (DApps) that run on blockchain networks. Below is an overview of a typical blockchain app development process: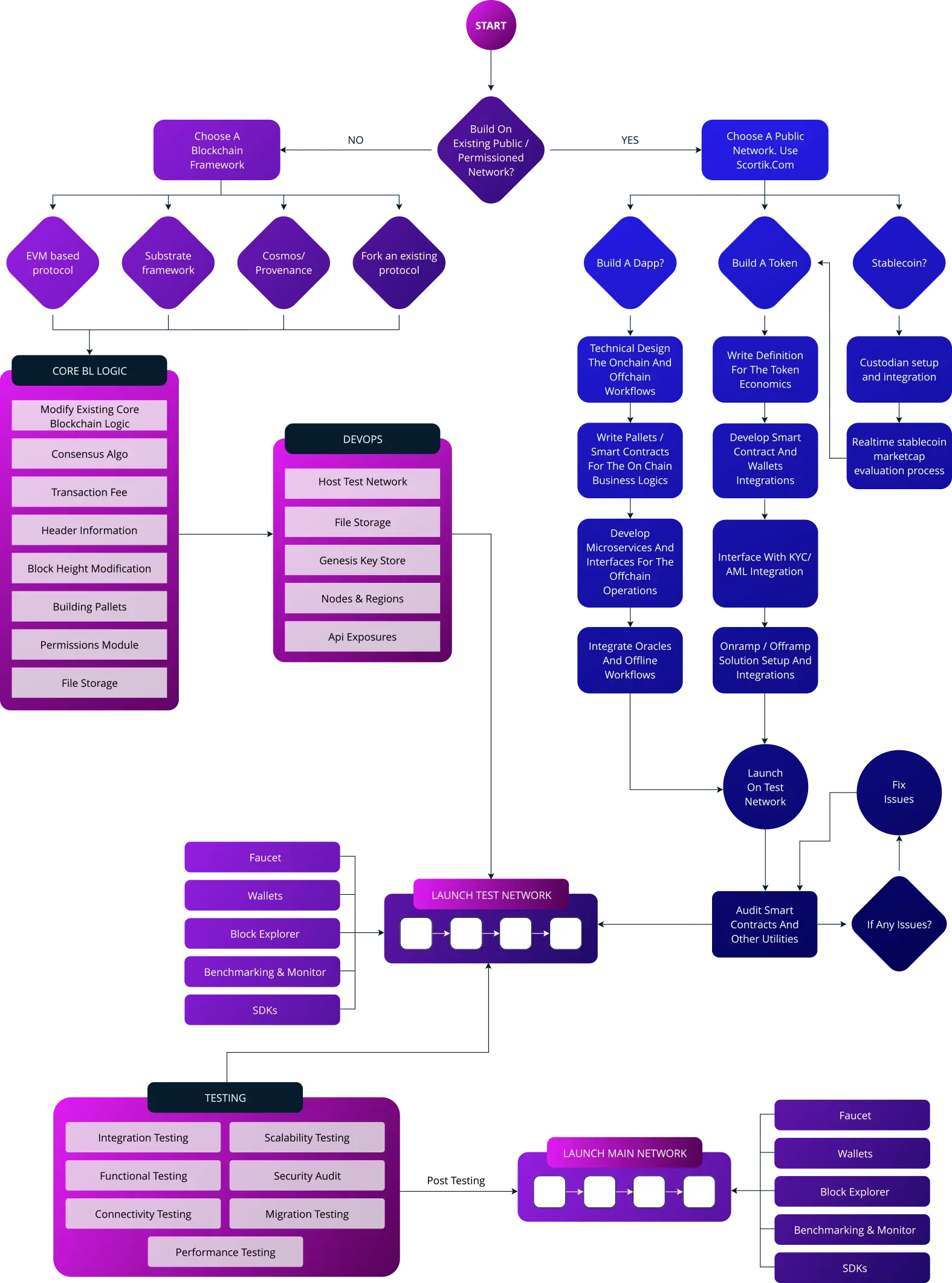 Blockchain Development Platforms We Work On
---
Blockchain development platforms are essential tools for building and deploying blockchain applications, including decentralized applications (DApps), smart contracts, and blockchain solutions. Here are some popular blockchain development platforms:
Types of Blockchain Development
Blockchain development encompasses various types, each with its own use cases and features. Here are some of the key types of blockchain development:
Public Blockchains
Public blockchains, like Bitcoin and Ethereum, are open and permissionless. Anyone can participate, validate transactions, and create smart contracts. They offer a high degree of decentralization and security but may have scalability challenges.
Private Blockchains
Private blockchains are restricted to a specific group of participants who have permission to access and validate transactions. These are often used for internal business applications, where control, privacy, and performance are paramount.
Consortium Blockchains
Consortium blockchains are semi-private, involving multiple organizations or entities that jointly operate and maintain the blockchain network. These are useful for industries requiring cooperation while maintaining some level of control.
Hybrid Blockchains
Hybrid blockchains combine elements of both public and private blockchains. They offer some degree of privacy and control while still leveraging the security and decentralization of public networks.
Permissioned Blockchains
Permissioned blockchains restrict access to certain participants who are granted permission to validate and transact. These are common in enterprise settings, where compliance and identity management are essential.
Smart Contracts
Smart contract development involves creating self-executing contracts with code that automatically enforces terms and conditions. These can be deployed on various types of blockchains, such as Ethereum or Binance Smart Chain, for decentralized applications (DApps).
Token Development
Token development involves creating custom cryptocurrencies or tokens on existing blockchain platforms. These tokens can represent assets, rights, or access within a specific ecosystem.
Decentralized Applications (DApps)
DApp development involves building applications that run on blockchain networks. These applications often utilize smart contracts and can serve various purposes, from finance to gaming.
Blockchain Interoperability
Blockchain interoperability development focuses on connecting different blockchains, enabling them to communicate and share data. This is crucial for enhancing the overall blockchain ecosystem.
Supply Chain Solutions
Blockchain can be used for supply chain development, creating transparent and traceable systems to track products from origin to destination.
Digital Identity
Blockchain can be used to develop secure and portable digital identity solutions, providing individuals with control over their personal information.
Healthcare Solutions
In healthcare, blockchain can be used to create secure and interoperable electronic health records, manage clinical trials, and ensure data integrity.
Voting Systems
Blockchain-based voting systems aim to enhance the security and transparency of elections by creating immutable and verifiable records.
Financial Services
Blockchain development in the financial sector includes building solutions for cross-border payments, asset tokenization, DeFi (Decentralized Finance) platforms, and more.
Energy and Sustainability
Blockchain technology can be applied to create decentralized energy grids, enable peer-to-peer energy trading, and track sustainability efforts like carbon credits.