7+ Years
Experience in Blockchain
Empowering Artists, Creators, Collectors, and Businesses:
Our NFT Marketplace Development Company
Blockchain App Factory has been a top NFT marketplace development company for over 7+ years with a global presence. Our experience and expertise in the blockchain industry let us create marketplaces functioning across multiple networks (Ethereum, Polygon, BNB Chain, Solana, Avalanche, Harmony, and Astar). Our excellence in creating smart contracts and payment infrastructures allows NFT enterprises to advance to the next level.
The NFT marketplace solutions we develop offer extensive customization that clients can use to build futuristic applications. Scalability is also ensured, as we provide room for development in the future, ensuring the platform stays trendy. Our developer team makes the marketplace solution safe using multiple security protocols like MFA and encrypted data storage. Moreover, our professionals are available to support enterprises at all times to ensure issues are resolved promptly. For such excellent services, we charge costs based only on your business requirements. Watch our client testimonials to see our competencies in creating NFT marketplace business solutions.
Why is NFT Marketplace Development Important?
The NFT marketplace is a hub that gives life to NFTs. Behind every successful selling, minting, and trading of NFTs, there is a platform that supports these digital collectibles with such functionalities. That's the grandness of the marketplace in today's NFT realm. Though there are quite a few top-performing NFT marketplaces out there, we provide this NFT marketplace development service to make your brand emerge as one of those first-class platforms, definitely not with the regular features and functionalities, but something very special.
As an eminent NFT marketplace development company, we know the utmost importance of this business model, and we are eager and excited at the same time to assist those who stand with the same perception. If you are one among those, c'mon let's get started!
Features of our NFT Marketplace
Cross-Chain Compatibility

Our NFT marketplace development supports you with an interoperability feature that allows users to use their NFTs across multiple blockchain networks.

Multi-Chain Compatibility

The platform can support multi-chain networks, such as Ethereum, BSC, Polygon, Solana, etc.

Easy Listings

Creators can easily list their NFTs in either auction sale or fixed price sale, depending on their interests.

Transaction History

The marketplace will show a list of previous buyers, the date of the mint, and other transaction details in the history section.

Hot Collection

This feature gives users an idea about the hottest-selling collection that seizes the attention of other NFT enthusiasts on the platform.

Properties

The property section mostly denotes the traits, rarity, and other essential information of the NFT.
Add to Cart

Our marketplace will support purchasing NFTs in bulk, and we do this with the help of the adding to cart option, just like the one in e-commerce platforms.

Share

The share feature in the marketplace will allow anyone to share the listed NFT to diverse social media platforms.

Favorite

This feature allows users to keep their favorite NFTs aside and saves their time in checking the price or other information frequently.

Payment Gateway

The platform will provide a flexible payment system by accepting both fiat and cryptocurrency.

Attributes

This section of the marketplace will provide a technical description of the NFTs, such as network name, standards, metadata, contract address, etc.
How can Building an NFT Marketplace be a Masterstroke for Your Business?
NFTs have evolved from being simple registries on blockchains as they are of various types based on use cases. The NFT boom has definitely shown the world the endless possibilities that these virtual tokens hold, which will be tapped in the years to come. Our experts offer excellent services on NFT marketplace development using various solutions on multiple blockchains. We can build your platforms from the ground up or using pre-made solutions, both of which will have all your business needs fulfilled without compromises at affordable costs.
$232
Billion
The market size of NFTs is expected to reach more than US$ 232 billion by 2031!
Blockchain App Factory has experience in working with various applications based on blockchain technology, making us provide NFT marketplace development platforms that fulfill client needs and satisfy basic blockchain requirements.
List of Our NFT Marketplace Development Services
NFT Wallet Development
Built-in crypto wallets support multiple cryptocurrencies and stable coins on the NFT marketplace platform.
Smart Contract Audit
Smart contracts need to be written carefully so that only the intended action is executed.
Whitelabel NFT Solutions
Ready-made NFTs can be useful for new sellers who want to explore the crypto world. These Whitelabel solutions can be useful when they do not own NFTs.
NFT Marketplace Support
Assistance can be provided in case of any unexpected problems with the NFT marketplace platform.
NFT Marketplace Marketing
Promotions for your NFT marketplace platform can be done across various mediums.
Whitelabel NFT Marketplace
Customizable ready-to-launch marketplaces can be created quickly to fit your needs. It is to be noted that only minimal costs are incurred for the service.
Multi-Chain NFT Marketplace Development
Develop your dream NFT platform in your favorite blockchain. Below is the list of blockchain networks that we use to build your multi-chain NFT marketplace.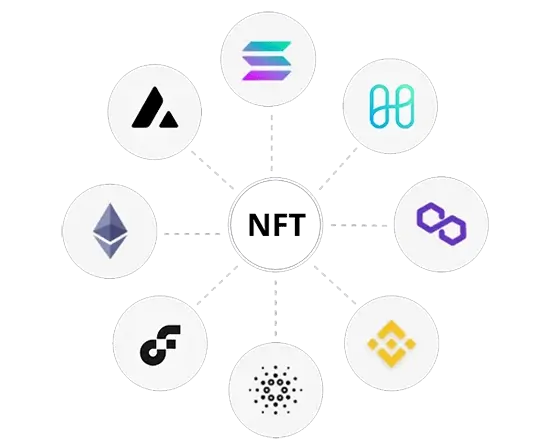 How to Create an NFT Marketplace? Easy Steps
Project Ideation

Prototyping

UI/UX Development

Back-end & Smart Contracts Development

Testing

Deployment

Updates & Maintenance